Celebrate the LGBTQ+ Community with Tri-C at 'Pride in the CLE'
SOGE Council and Lambda Gender Sexuality Alliance organizing marchers for event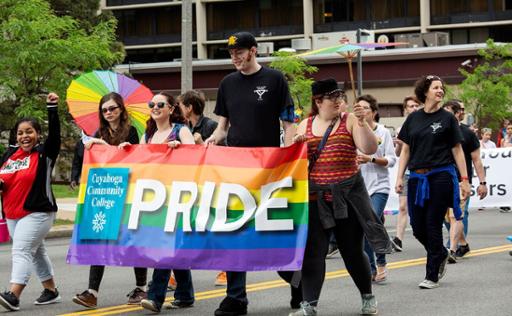 The Sexual Orientation and Gender Equality (SOGE) Council and Lambda Gender Sexuality Alliance at Cuyahoga Community College (Tri-C®) are seeking marchers to participate in the Pride in the CLE 2019 March.
Celebrate the LGBTQ+ community and the College's diversity efforts by walking in this year's event Saturday, June 1. The march steps off at noon and winds through downtown before ending at Public Square. The route is less than a mile long.
Participants should arrive at 11 a.m. at the check-in at West 9th Street and Front Avenue. Last year, more than 2,100 marchers took to the streets to show the strength of the LGBTQ+ community.
The march concludes at the Pride in the CLE Festival, which continues until 6 p.m.
Contact Michael Flatt 216-987-5528 or michael.flatt@tri-c.edu or Kellee Ellis at 216-987-3042 or kellee.ellis@tri-c.edu for information on marching with Tri-C or other ways of participating in the event.
This year's Pride in the CLE coincides with the 50th anniversary of the Stonewall Riots, a series of demonstrations in New York following a police raid at a Greenwich Village bar. Many view the protests as a defining moment in the fight for LGBTQ+ rights.
May 23, 2019
John Horton, 216-987-4281 john.horton@tri-c.edu