Calculated Risk Equals Success
Daliah Kassim earns degree after jumping from middle school to Tri-C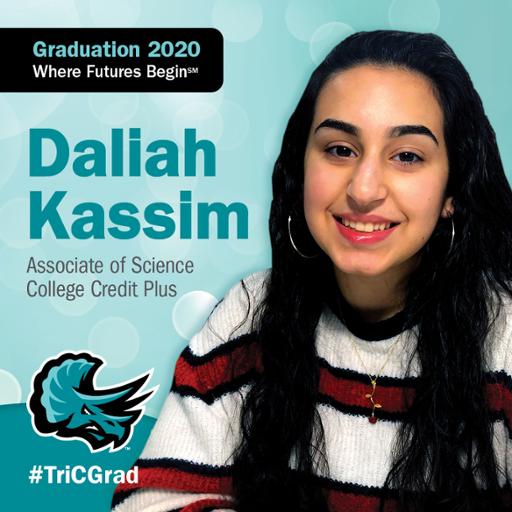 Daliah Kassim's final grade in college algebra stood out for all the wrong reasons following her first semester at Cuyahoga Community College (Tri-C®). 
She finished the Fall 2018 course with a D. For a student with a history of academic success, the grade felt more than a little jarring. "I had never really struggled in a class before," Kassim said. 
To be fair, though, the 14-year-old had only completed eighth grade up to that point. 
Two years later, Kassim is set to become one of Tri-C's youngest alumni at the age where most teens focus on getting a driver's license. The Avon resident will graduate from the College this month with an Associate of Science degree and cum laude honors. 
"It wasn't easy, especially at the start," she said. "But it was totally worth the risk to jump into college so early." 
Kassim attended Tri-C through Ohio's College Credit Plus program. The dual enrollment system allows students to earn college credits at no cost while working to meet high school graduation requirements. 
She started classes at Westshore Campus after passing placement exams showing that she was ready for the rigors of higher education. 
The transition, however, still proved difficult. 
Kassim credited her parents — Rawaa Hawi and Dr. Muhanad Kassim — with providing encouragement as she gained her academic footing. She rebounded from that tough start to post a perfect 4.0 GPA her second semester. 
"They were there for me when I struggled in that college algebra class, and they are still cheering me on," she said. 
She also found support on campus from professors, academic counselors and tutors. The Tri-C team helped Kassim build an academic resume that includes membership in the Phi Theta Kappa Honor Society. 
"Anytime I needed help, someone was there," Kassim said. "People at Tri-C want to see you succeed. They are all in if you're willing to put in the effort to meet your goals." 
Kassim plans to return to Tri-C in the spring to earn an Associate of Arts degree. During her senior year of high school, she intends to shift her focus to the College's Medical Assisting program. 
Looking long term, Kassim wants to go to medical school. She expects that D in algebra to be off her transcript by the time she applies, too. 
"I'm retaking the class this semester," she said. "Right now, I have a 98%." 
Cuyahoga Community College will celebrate the academic achievements of its newest graduates during a Dec. 17 virtual commencement ceremony. Check our News and Events page leading up to the online event as we highlight members of the Class of 2020.
December 09, 2020
John Horton, 216-987-4281 johnhorton622@gmail.com