Building a Workforce for the Digital Age
Tri-C's Monique Umphrey joins panel at The City Club on "Tackling the IT Talent Gap"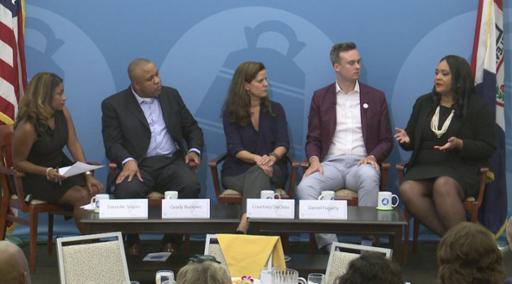 People often talk about information technology as if it's a single part of the Northeast Ohio economy. That's a mistake, says Monique Umphrey, vice president of workforce innovation and dean of IT at Cuyahoga Community College (Tri-C).
"No matter what industry you're in today, it's part of the IT world," Umphrey said.
Umphrey recently joined a panel at The City Club of Cleveland to discuss how Northeast Ohio's future could hinge on its ability to produce high numbers of skilled IT specialists. The program carried an apt title: "Help Wanted: Tackling the IT Talent Gap."
She was joined on the panel by Grady Burrows of BioEnterprise, Courtney DeOreo of the Regional Information Technology Engagement Board and Daniel Fogarty of LaunchCode. The forum took place Friday, July 27.
The discussion covered many topics, including access to IT training for diverse — and traditionally underserved — segments of the population. Umphrey said IT skills are essential to employment.
"Those who do not have digital skills moving forward will be the underclass," she said.
The hourlong discussion, moderated by Ideastream's Darrielle Snipes, is available online.
July 30, 2018
John Horton, 216-987-4281 john.horton@tri-c.edu