Buckets, Boards and a Bright Future
Tri-C's Devon Robinson overcomes personal challenges to lead one of the best junior college basketball teams in the country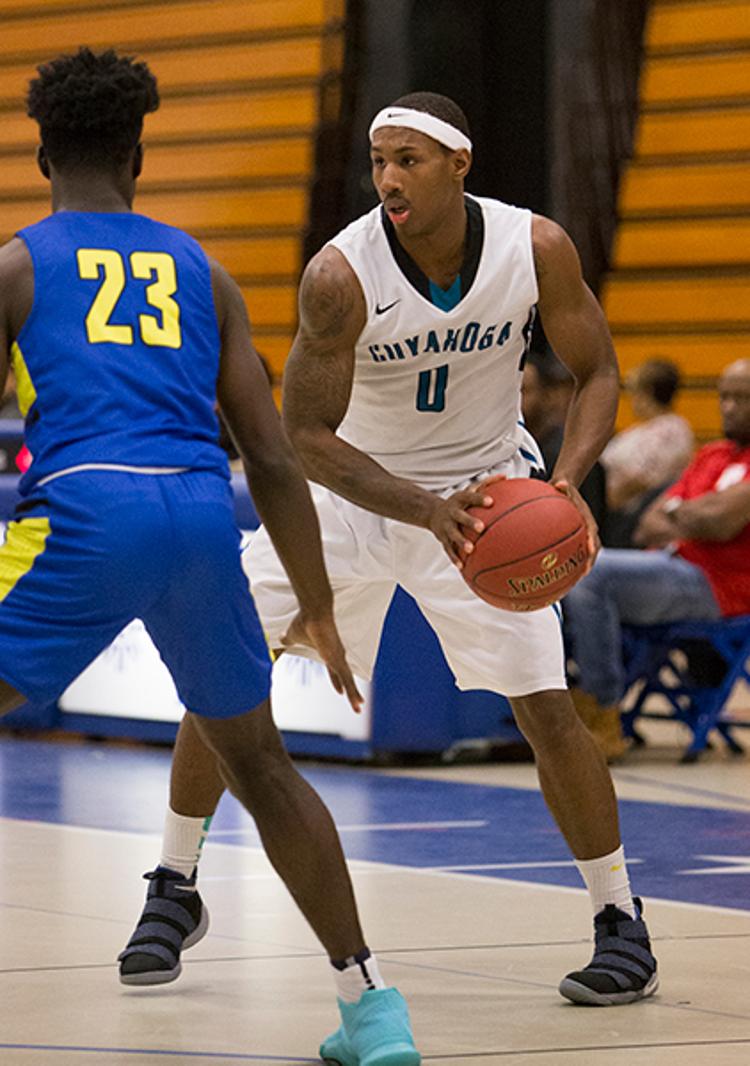 Cuyahoga Community College men's basketball player Devon Robinson isn't the man he appears to be. Not when you first meet him, at least.

Soft-spoken, with a ready smile, his demeanor stands in sharp contrast to his 6-foot-3-inch frame. He looks the part of a gentle giant.

Then you see him on the court. And you realize there's nothing gentle about him when he has a basketball in his hands.

"He plays so hard," said Michael Duncan, Tri-C head coach. "He sets the tone for us on offense, and he usually guards the other team's best player on defense. He never takes a play off."

Robinson, a sophomore, is one of the top junior college basketball players in the country. He's averaging a double-double in points and rebounds this season — 12.1 points per game and 10.6 rebounds per game through the end of February. He's also spent much of the season ranked in the top 10 nationally in steals, and he earned an NJCAA National Player of the Week award for Jan. 8-14.

The individual accomplishments are nice, but what really motivates Robinson is the thing he was denied last year: a chance at a national championship. Robinson helped lead last year's squad to a 28-3 record, but the season came to an abrupt end with a loss in the NJCAA Region XII title game.
This year's team is poised for another shot. The Challengers began the season with a 20-game winning streak, compiling a 26-1 record through the end of February. Tri-C has sat atop the NJCAA Division II coaches' poll on two separate occasions.

"I want that chance again," Robinson said. "I want to be able to come back here, look up in the rafters and see that banner. I want to know that I was a part of bringing a title back to Tri-C."

Robinson is savoring this opportunity, because it hasn't come easily.

 

Rise and fall

Robinson was first introduced to basketball by his father and spent his childhood playing the game in Cleveland's Mount Pleasant neighborhood.

"I started playing when I was maybe eight years old," Robinson said. "Before long, I was playing against kids older than me. Then I started playing in rec leagues."

His talent for the game quickly became evident. He elected to enroll at nearby Benedictine High School, with hopes of starring for the Bengals. But after a short time, he withdrew and enrolled at John Adams High School.

"Benedictine just wasn't a fit for me," Robinson said. "I ended up at John Adams, where most of my friends were."

Robinson burst onto the basketball scene at John Adams, gaining a reputation as an explosive athlete with dunking ability worthy of highlight montages — some of which are posted on YouTube.

But as effortless as Robinson made basketball look, it was an entirely different story in the classroom. Never one to enjoy studying or classwork, he frequently clowned around during class and failed to finish assignments.

It all hit home in the spring of 2014, when he failed the Ohio Graduation Tests. On graduation day at John Adams, he had to sit in the audience and watch as the rest of his class — including his girlfriend — walked across the stage and received their diplomas.

"I realized then that I had let the fame of being a star player go to my head," Robinson said. "I got big-headed, let myself become distracted and didn't take my studies seriously enough. It woke me up."

 

A second chance

Facing the possible end of his basketball career, Robinson had to find a way to get his diploma and continue on to college. He found both at Tri-C, where he received his GED in 2016 — the summer before he made his collegiate debut on the court.

That year, Robinson also became a father. 

"Having my son made me grow up in a hurry," he said. "He gives me all kinds of motivation, because I don't want to let him down. I want to be someone he can look up to."

Robinson credits Duncan for providing the structure and direction he needed to grow both as a player and as a person.

"He helped me become a man," Robinson said of his coach. "Being part of this program has been a fantastic experience for me."

"It's been great to watch Devon mature from a raw athlete to a polished player," Duncan said. "The skills he lacked when he first came here, he has worked hard to develop — and now he's seeing the results."

Robinson is ready to begin his next chapter. He is preparing to transfer to California University of Pennsylvania, where he will play for the NCAA Division II Vulcans next season.

With an NJCAA national championship on his resume, he hopes.
March 01, 2018
Erik Cassano, 216-987-3577 or erik.cassano@tri-c.edu