Brock Begue: A Miracle on the Mound
Tri-C pitcher overcame health issues to become an All-American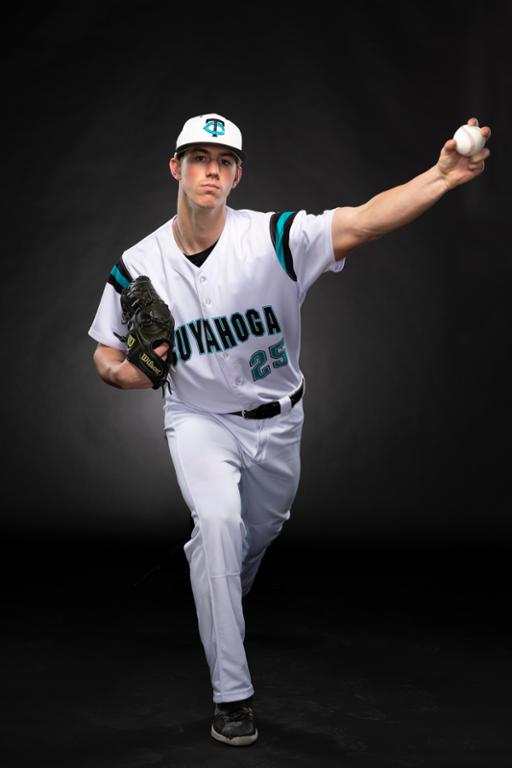 A stroke and seizures ravaged Brock Begue's body after birth. Doctors surveying the damage questioned whether he'd ever walk — and if he somehow did, they expected him to drag his right foot.
As for the boy's right arm … well, doctors doubted it would ever function properly.
Twenty years and a miracle later, that early prognosis seems hard to believe. Begue earned NJCAA Division II All-American honors in baseball last year after a dominating season pitching for Cuyahoga Community College.
The left-hander from North Canton kept that momentum going this season, too. He is 2-0 with a 0.93 ERA through his first four starts in 2019, with 36 strikeouts in 19.1 innings.
All of these accomplishments come despite a numbness that continues to grip his right side.
"Honestly, I just get through it," Begue said. "I still have symptoms, but I don't let them get in the way. It's just something to deal with."
Begue anchors the pitching staff for a Triceratops team with high expectations. Tri-C ended last year ranked 15th in the country. The team — which opened the 2019 campaign with a 6-8 record — has been nationally ranked each of the past four seasons.
Building on that previous success depends heavily on Begue's left arm and his ability to mix 90 mph fastballs with wicked changeups and knee-buckling curveballs.
"He sets the tone for us," said Evan Agona, the team's head coach since 2015. "When we put Brock out there, we know we have a good chance to win. He's immensely talented and just as competitive. He's not afraid of the moment."
Begue proved that during the postseason tournament last season while pitching Tri-C to victory over Kellogg Community College — the No. 2-ranked team in the nation entering the game.
Agona said Begue caught the eyes of numerous scouts at that game. Some of the top NAIA schools offered Begue scholarships to continue playing college ball. He may also hear his name called in the Major League Baseball draft.
But Begue — who is taking classes with hopes of one day working in construction management — is putting his energy into his current opportunity. It's the attitude of someone who knows from experience that nothing is a given.
"I'm not looking too far ahead," he said. "I still have things to accomplish at Tri-C."
The Triceratops play their first Ohio Community College Athletic Conference games of the season on Saturday, March 23, when they host Sinclair Community College. The team plays its home games at Western Campus in Parma.
March 20, 2019
John Horton, 216-987-4281 john.horton@tri-c.edu