Bringing 'The Voting Experience' to Tri-C
Interactive exhibit visiting campuses to register voters and highlight election processes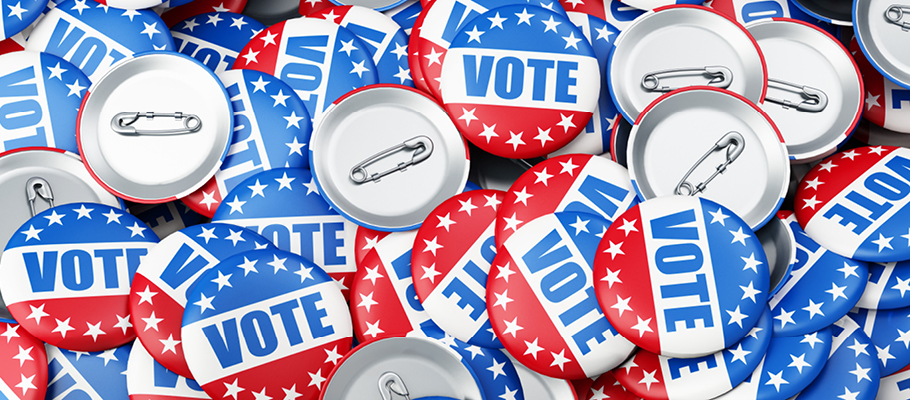 A student-led initiative to register voters and encourage participation in the political process swings into full campaign mode this month at Cuyahoga Community College (Tri-C®).
"The Voting Experience" exhibit will be at each Tri-C campus twice in September. The interactive display familiarizes students with the process of registering to vote; researching candidates and issues in a nonpartisan fashion; and casting ballots.
The project is being led by three Tri-C students — Oktay Adatepe of Woodmere and Ellen Haag and Hajar Rouiha of Cleveland. Each is a Democracy Fellow with the Fair Election Center's Campus Vote Project, a national movement encouraging students to be politically active.
Campus Vote Project and the National Association of Student Personnel Administrators designated Tri-C as a Voter Friendly Campus earlier this year for its ongoing work developing a culture of democratic engagement.
A pair of Tri-C students created "The Voting Experience" exhibit before graduating last year as part of their work as Democracy Fellows. Their goal was to educate and familiarize students with the election process in a fun and engaging way.
The exhibit includes voting booths where participants will practice casting a ballot by weighing in on hot-button issues such as favorite ice cream flavors and superheroes.
Look for "The Voting Experience" at the following locations, arranged by date. The final event coincides with National Voter Registration Day:

Metropolitan Campus in Cleveland
Wednesday, Sept. 11: 10 a.m. – 2 p.m. in the Courtyard
Thursday, Sept. 12: 10 a.m. – 1 p.m. outside Studio 101
Westshore Campus in Westlake
Monday, Sept. 16: 10 a.m. – 1 p.m. in room 116 of the Liberal Arts and Technology building
Tuesday, Sept. 17: 10 a.m. – 1 p.m. in room 116 of the Liberal Arts and Technology building
Western Campus in Parma
Wednesday, Sept. 18: 11 a.m. – 2 p.m. in the North Galleria
Thursday, Sept. 19: 11 a.m. – 2 p.m. in the North Galleria
Eastern Campus in Highland Hills
Monday, Sept. 23: 11 a.m. – 1 p.m., President's Plaza in the Student Services building
Tuesday, Sept. 24: 11 a.m. – 1 p.m., President's Plaza in the Student Services building
September 06, 2019
John Horton, 216-987-4281 john.horton@tri-c.edu