Bringing Music to the Masses
Tri-C's Vincent Briley and the Cleveland Orchestra Chorus make their voices heard despite pandemic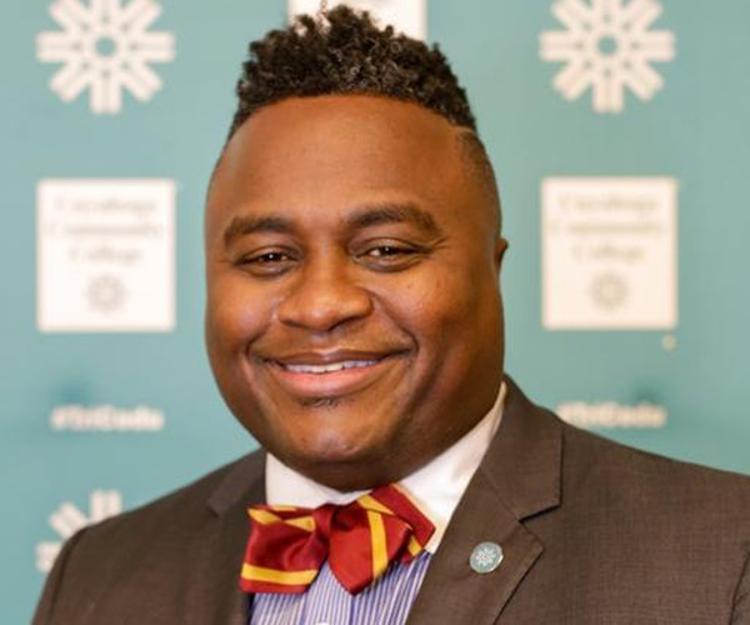 It's been almost a year since the lights went out on the performing arts industry. 
From Blossom Music Center to Broadway, the COVID-19 pandemic has exacted a massive toll in the form of canceled concerts and shows. It has forced performers to practice at home and perform via video stream. 
The impact of social distancing is magnified when you're a part of an ensemble like the Cleveland Orchestra Chorus, the 110-member vocal component of the world-famous Cleveland Orchestra. 
Vincent Briley, assistant dean of learning and engagement at the Metropolitan Campus of Cuyahoga Community College (Tri-C®), has been a member of the chorus for six years. He sings first tenor. He is also in his second year as co-chair of the Cleveland Orchestra Chorus Operating Committee. 
"The big challenge is that we're not around each other," he said. "Usually you're together in the room and can feel the presence of everyone. You can fine-tune your voices to achieve one sound. When you're practicing over video, you can't do that the same way." 
But even though it's a time of unprecedented hardship for the performing arts in Cleveland and elsewhere, Briley and the rest of the Cleveland Orchestra Chorus look forward to the day when the lights come back on; when theaters and concert halls will once again be packed. 
Briley and fellow chorus members Danielle McDonald and Brian Fancher recently appeared in a video highlighting the importance of the chorus in their lives and to Northeast Ohio. While the video was part of an announcement of a $45,000 donation by the chorus to the Cleveland Orchestra Preservation Fund, it also offered a behind-the-scenes look at rehearsals for a holiday performance of Dona nobis pacem, the music from Bach's Mass in B minor. 
It's the chorus' first full performance since the pandemic began. Though it's not the same as being together in Severance Hall, Briley sees it as an important step toward a return to normalcy. 
"We felt it was a good project for us," he said. "Working in a virtual environment might be a bit more of a challenge, but we're up to facing it." 
As someone who has sung in choruses and choirs since middle school, Briley isn't about to let social distancing dampen his passion for music — or his desire to share it with others. 
"Music and performing is something that's a part of me, and I can't tell you how special it is to have an institution like the Cleveland Orchestra here, where people come from all over the world to perform with it," he said. "Its mission to spread music and the arts to the people in this community is something I'll always work to advance." 
Briley, who also works as a greenskeeper at the Cleveland Metroparks' Shawnee Hills Golf Course in Bedford, sees parallels between choral music and golf. Both require years of practice to master, and both will test your mettle — your persistence, perseverance and mental toughness. Never more so than right now. 
"It's nice to have a standing ovation at Severance Hall, just like it's nice to break par for a round," he said. "But in music, you don't always have that packed house. And in golf, you don't always get a hold of one off the tee. That said, golf is a generous sport full of people willing to help you, and our chorus is full of generous people. We're all lifting each other up right now. It's a wonderful thing to watch."
January 04, 2021
Erik Cassano, 216-987-3577 erik.cassano@tri-c.edu