Bringing an Island Vibe to the North Coast
Tri-C culinary graduate Omar McKay is living his dream with Irie Jamaican Kitchen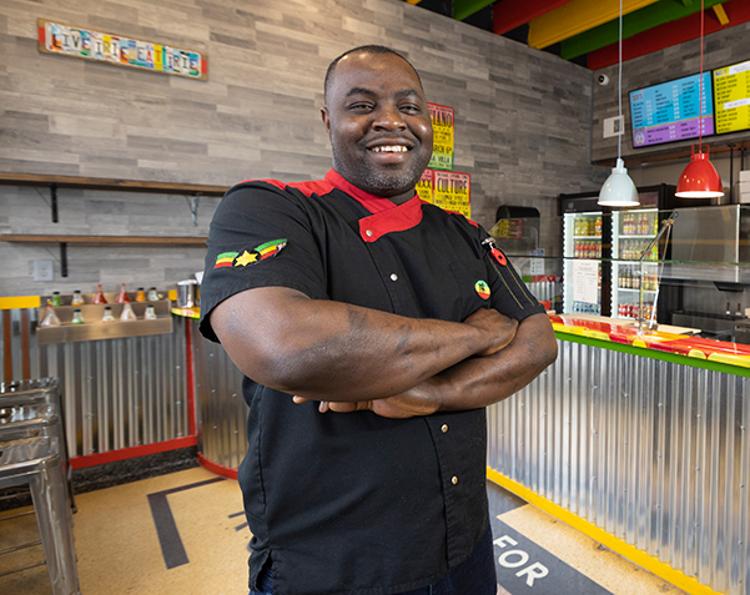 (Editor's Note: After temporarily closing due to the COVID-19 pandemic, both Irie Jamaican Kitchen locations were reopened as of Friday, May 22. For more information, visit the Irie Jamaican Kitchen website.)

Food has been at the center of Omar McKay's life for as long as he can remember.

"My father is a chef who now works in London, and even at home as a kid, I remember watching my mom cooking in the kitchen," McKay said. "That is how I developed my passion for food and cooking. It got into my blood."

When he moved from Jamaica to the United States at age 13, he brought those memories with him. They carried him through his education at Warrensville Heights High School and soon thereafter into the beginning of a culinary career, working at various Cleveland-area restaurants.

"I worked everywhere — fast food, fine dining, country clubs," he said. "I did it all. There was a lot of on-the-job learning."

But McKay always dreamed of owning his own restaurant. And it's that dream that led him to enroll at Cuyahoga Community College in 2007 to pursue a professional culinarian certificate. When he graduated in 2011, he was finally on the verge of realizing that dream: Irie Jamaican Kitchen.

Recipe for success
McKay, 41, was already a seasoned restaurant veteran with a wealth of kitchen experience when he entered Tri-C's culinary program. But he didn't yet know how to visualize a restaurant concept and develop a plan to make it a reality.

"At Tri-C, I learned a lot — not just how to be a better chef, but how to be better at the business end of things," McKay said. "With what I learned there, I started to really be able to see the possibilities of opening a Jamaican restaurant."

The local food scene is full of fast-casual, counter-service restaurant concepts covering a wide range of cuisines — Mexican, Italian, Asian and Middle Eastern, to name a few. But there were no fast-casual Jamaican restaurants in the area. McKay saw the gap and came up with a plan to fill it.

In 2013, he opened his first restaurant at Richmond Town Square in Richmond Heights. But in spite of his initial success, there were still some hurdles to clear.

McKay quickly encountered a fundamental problem in bringing Jamaican food to American palates: With few exceptions, Americans don't like bones in their food.

"I was still making bone-in chicken, which is traditionally how it's prepared in Jamaica," he said. "But people didn't really like that. They weren't used to it."

It was a lesson McKay took with him when he moved his restaurant to its current location at 621 E. 185th St. in Euclid in early 2016. He began cutting the meat for his stew chicken and jerk chicken dishes into bite-sized pieces, similar to how it's served at other counter-service restaurants.

He also changed the name of his restaurant. Until then, it was called "Irie Patties," named for the Jamaican beef patty, a staple of the country's cuisine.

"But people thought it was a burger place," he said. "So I started thinking back to childhood and just the joy of being in the kitchen, and came up with Irie Jamaican Kitchen."

Expansion plan
With a new name and menu modifications, McKay began to see his dream bear fruit. Irie quickly became a neighborhood favorite at its Euclid location, serving other Jamaican dishes including curry and jerk variations of beef and shrimp, oxtail, vegetarian entrees and sides including rice and peas, cabbage and fried plantains. A full menu is available at iriejakitchen.com.

The restaurant was such a hit, McKay began thinking about expansion. He was established on the east side of the city, so the next logical step was to expand to the west side.

This past December, McKay opened his second Irie Jamaican Kitchen location at 4162 Pearl Road in Cleveland's Old Brooklyn neighborhood.

"A lot of my customers were coming from the west side, so it made sense to open a restaurant closer to them," he said. "And it just expands the brand further, opening it up to more people, which was always the goal."

McKay hopes to continue adding Irie locations in different parts of the city. He credits much of his newfound enterprising spirit to what he learned at Tri-C.

"You need more than just good recipes to make it in the restaurant business," he said. "You need a plan, and you need to be able to manage a lot of different responsibilities. You need to understand how to oversee a staff and provide a great customer experience. Those are all things I learned at Tri-C. The instructors there take you through every aspect of the food service business."

His time at Tri-C also taught him that a dream can become reality with enough hard work. It's a lesson he wants to pass on to future restauranteurs.

"If there is something you want to do in life, go out and educate yourself," he said. "Find teachers and mentors along the way, and prepare yourself to work hard. If you do that, you can reach your goals."
May 26, 2020
Erik Cassano, 216-987-3577 or erik.cassano@tri-c.edu