Bridget Lyons: Finding the Fire to Succeed
Kindergarten teacher turns to Tri-C to reinvent herself as a firefighter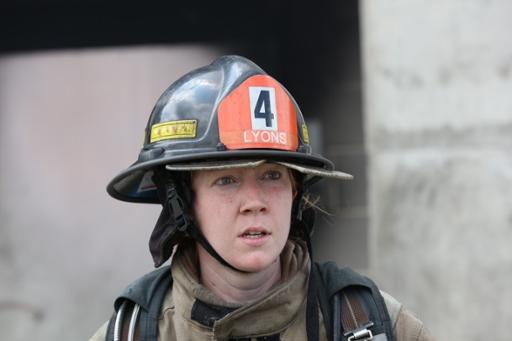 As a kindergarten teacher, Bridget Lyons was quite comfortable with many sets of eyes staring at her as she began a new school year. But her first day at the Cuyahoga Community College (Tri-C®) Fire Training Academy felt different.
As she walked into the room, she sensed questioning in the looks from 16 new — and exclusively male — classmates.
Did Lyons have what it takes? The answer soon became obvious.
The 26-year-old from Lakewood completed Tri-C's Fire Training Academy in June with Firefighter II certification and the respect of her classmates, who chose Lyons as their leader soon after that first meeting.
A ceremony celebrating the class will take place Friday, Aug. 3, at Tri-C's Western Campus Theatre.
"I learned so much at the academy," Lyons said. "Not just about firefighting, but about myself."
Lyons seemed destined for a career in public service given her family history. Her mother and sister are both school teachers, and her father is a retired FBI agent. Lyons' grandfather, who passed away in 2006, worked as a firefighter in Lakewood.
Lyons remembers when her grandfather's funeral procession passed by the Lakewood firehouse. "All the firefighters were standing outside saluting my grandfather, a man they had never even met," she said.
That act of brotherhood made a profound impact on Lyons, even if it took years to spark.
Lyons initially set out to be a teacher. She earned a degree in early childhood education from the University of Mount Union and began her teaching career in 2014. She enjoyed the job and loved working with children.
Still, she carried a nagging feeling that something was missing.  
Over the course of the next year, Lyons grappled with idea of becoming a firefighter. "I really didn't see any female firefighters," she said. "The firefighters who came to speak in my classroom for Fire Prevention Month were all male."
After attending a Cleveland Division of Fire recruiting event, she learned that the city employed a handful of female firefighters. She wondered if she had what it takes to become one of them.
Lyons heard about Tri-C's Fire Training Academy and decided to give it a try. She received a KeyBank Public Safety Scholarship and joined the evening academy in February 2018, balancing her training with teaching at St. Raphael Catholic School in Bay Village.
While Lyons' academic background made the coursework manageable, the academy's physical requirements proved challenging. The former collegiate athlete who once routinely pushed her body to its limits now couldn't carry the roof ladder.
"I had never experienced my body letting me down," Lyons said.
But her competitive nature didn't allow her to quit. Soon, she was not only able to carry the roof ladder, but could also climb it wearing a mask and carrying an ax.
Lyons called her experience in the College's program phenomenal. She said she now plans to pursue EMT/Paramedic certification at Tri-C before seeking employment as a full-time firefighter.
When Lyons began her journey, she looked to other female firefighters for inspiration. Now she looks forward to visiting classes during Fire Prevention Month to motivate the next generation of female firefighters.
Her message, she said, will be simple: "I would tell other women considering firefighting to just try it," Lyons said. "Don't ever doubt that you belong."
July 27, 2018
Kathy Gill, 216-987-4704 kathy.gill@tri-c.edu