Brain Power: Tri-C Biology Professor Beth Vaidya
Innovative instructor uses background in neuroscience to enrich student learning at Tri-C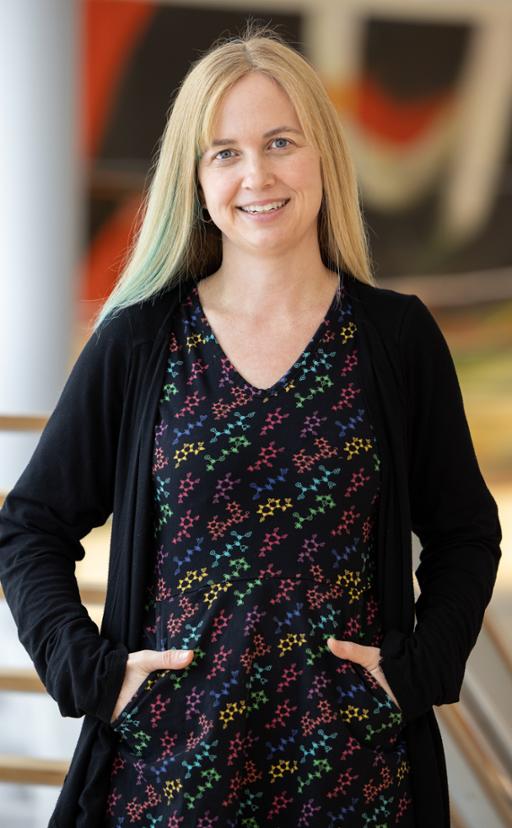 A neural computer operates within our skulls, accumulating information that drives daily decision-making. The brain powers success and achievement — but it can also open doors to darker places.
The workings of this complex command center have captivated Beth Vaidya since childhood. It led her into the field of neuroscience, spurred research projects and resulted in a postdoctoral fellowship at the National Institute on Drug Abuse.
Today, that desire to search inside the brain for answers guides her work teaching biology at Cuyahoga Community College's Westshore Campus. 
About 800 students enroll in anatomy and physiology courses at Tri-C each year, most intending to enter health career programs like nursing, sonography or dental hygiene. But many don't yet have the tools they need to learn difficult information. Vaidya's goal is to give them that foundation.
"I want students to leave my courses knowing they can do hard things," she said. "I want them to be confident in their abilities and proud of what they've accomplished."
Vaidya often uses games like Taboo or Pictionary to teach tough concepts — but she's also resourceful enough to create her own when the opportunity presents itself. Last fall, students in Vaidya's molecular biology lab played a virtual game with her son, Naveen, who was hospitalized with Type 1 diabetes.
"He described his symptoms, and they had to guess the diagnosis," she said. "I formed a close bond with those students. Some of them still email me to ask how he's doing." 
More than anything else, Vaidya enjoys researching, testing and implementing new technologies to help students succeed.
Her ingenuity had a particularly significant impact in the early days of the COVID-19 pandemic, when she shared virtual labs she'd created herself with anatomy and physiology faculty across the College as they struggled to adapt to online instruction.
She continued producing new virtual labs from home, setting up a laboratory in her basement and filming herself and her children as they performed experiments for students to watch and analyze.
"My initial goal was to provide free resources for students, since the cost of textbooks is a barrier," she said. "I'm glad I was able to help my colleagues, too."
Vaidya also promotes cutting-edge technology like the Anatomage table, which allows students to "dissect" virtual cadavers, and the Microsoft HoloLens, a head-mounted device that projects 3D digital content into the real world so that users can manipulate and interact with it.
It was her interest in the HoloLens and how it could help students grasp anatomical concepts that led Vaidya and fellow Westshore biology professor Erica Stevenson to apply for a Faculty Innovation Grant from Tri-C in 2019. 
The resulting study, "The Effectiveness of an Augmented Reality Head-Mounted Display in Learning Skull Anatomy at a Community College," was published in June 2020.
Vaidya and Stevenson recruited 32 Westshore students to participate in the study. Randomly assigned to one of two groups, they took a baseline quiz to test their knowledge before using either the HoloLens or an unmarked white plastic model and textbook to learn the anatomy of the human skull. Both groups then took a post-quiz to measure their learning.
The results were unexpected: There was virtually no difference in learning outcomes between students who used the HoloLens and those who used the traditional plastic model.
Vaidya had worried that the HoloLens would be difficult to master within the 20-minute timeframe allotted — and she didn't realize how much fun students would have with it.
"There were shouts of joy and amazement which, as you might imagine, did not occur with the plastic skulls," she said.
The campus has since invested in a full set of HoloLens and an entire room devoted to virtual and augmented reality. Vaidya looks forward to resuming this work once the pandemic is over.
"Our findings are encouraging, but the small sample size means we can't be sure what differences might exist between demographics," she said. "I'd like to test its effectiveness on other learning outcomes, too." 
Vaidya returned to the classroom for hands-on labs in fall 2020, but her courses still mainly take place online. Recently tenured, she continues to tap into her research skills to test and refine strategies for efficient, engaging and effective virtual and in-person instruction.
"I like exploring how students learn and discovering new ways to facilitate that for them," she said.
"Tri-C enabled me to become the best teacher possible, and I'm still learning."
This story can also be found in the Spring 2021 edition of Tri-C Times.
April 05, 2021
Beth Cieslik, 216-987-4538 beth.cieslik@tri-c.edu