Blue Note Records Celebrates 80th Birthday with Tri-C Performing Arts
Iconic record label's anniversary tour brings three artists to Metro Campus on Nov. 13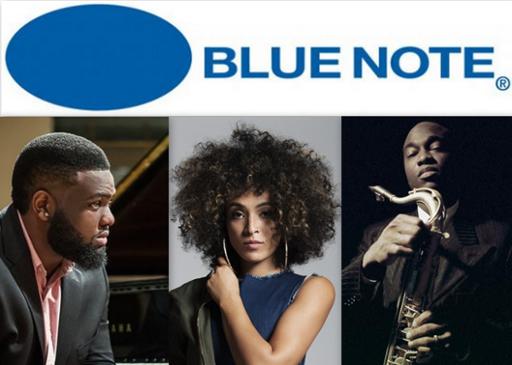 A triple bill of current Blue Note Records artists — Kandace Springs, James Carter and James Francies — will commemorate the iconic record label's 80th birthday as part of the Tri-C Performing Arts Series presented by Cuyahoga Community College (Tri-C®).
The performance will take place at 7:30 p.m. Wednesday, Nov. 13, in the John P. Murphy Foundation Theatre at Tri-C's Metropolitan Campus in Cleveland. Each artist will perform a set of their own music before joining together for a finale featuring a classic Blue Note tune.
Established in 1939, Blue Note Records is a storied record label that derives its name from the characteristic "blue notes" of jazz and the blues. It served as home to historic greats such as Thelonious Monk, Miles Davis and John Coltrane.
Today, Blue Note features top artists such as Terence Blanchard, José James and Norah Jones while continuing to launch new talent into the jazz world.
"Blue Note stood for a certain sound, feel and even look with its album covers," said Terri Pontremoli, director of Tri-C Performing Arts and Tri-C JazzFest. "To this day, there is a defining hipness associated with the Blue Note roster."
The trio coming to Cleveland represent three stars on that roster. The visiting artists include:
Kandace Springs, a 27-year-old Nashville-based singer, songwriter and pianist. After catching Prince's attention with her makeover of Sam Smith's "Stay with Me," the music icon invited her to perform with him for the 30th anniversary of Purple Rain. She will be joined by drummer Taylor Moore and bassist Caylen Bryant for her Cleveland debut.
Veteran saxophonist James Carter, a Detroit native who has recorded 18 albums under his own name and collaborated on many more with today's jazz greats. Known for his technical command and wide emotional range, Carter will appear with his longtime organ trio featuring Gerard Gibbs on organ and Alex White on drums.
James Francies, who at age 24 is heralded as the next great jazz pianist characterizing the music of Blue Note. The Houston native has recorded and/or performed with Christian McBride, Pat Metheny, Chris Potter, Robert Glasper and Lauryn Hill, among others. He will be joined onstage by bassist Burniss Travis and drummer Jeremy Dutton.
Tickets to the show range from $5 to $35 and can be purchased at www.tri-c.edu/bluenote or by calling 216-987-4444. Parking is available in lot 5 off of Woodland Avenue.
Tri-C's 2019-2020 Performing Arts season features 10 productions showcasing classical piano, jazz and dance. It is designed to bring a world-class artistic experience to the Greater Cleveland community. To learn more, visit www.tri-c.edu/performingarts.
October 24, 2019
John Horton, 216-987-4281 john.horton@tri-c.edu