Big News: Stomp the Triceratops Makes Debut
College's first costumed mascot takes first steps on campus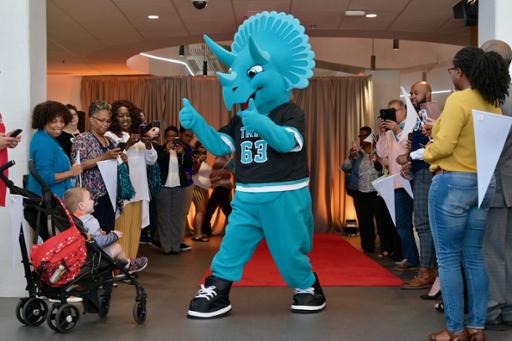 Welcome back to the age of dinosaurs.
Stomp the Triceratops, the first costumed mascot at Cuyahoga Community College (Tri-C®), stepped onto campus today in a much-anticipated debut. The big entrance took place at the College's Metropolitan Campus Center.
The "real-life" reveal comes nearly a year after students, alumni and staff selected Triceratops as the school's new mascot. A second online poll in March named the mascot Stomp.
"A mascot has the power to raise the spirit of the entire College community," Tri-C President Alex Johnson said. "Stomp is strong, confident and bold — qualities that reflect who we are at Cuyahoga Community College."
Tri-C spent the past six months working with Street Characters to bring the three-horned dinosaur to life. The company has created thousands of costumed characters for organizations and sports teams, including Chomp for the Cleveland Browns.
Stomp — colored in Tri-C's trademark teal — seems ideally suited to represent the College. The stout dinosaur was created as a formidable yet likeable creature capable of firing up crowds and stealing hearts.
Following the debut at Metro Campus, Stomp roamed to Westshore Campus in Westlake to continue getting acquainted with the College. Tomorrow, Stomp will visit Eastern Campus in Highland Hills, Western Campus in Parma and Brunswick University Center.
No other college or university features a dinosaur mascot, making Stomp unique in a crowd of so many bears, lions and eagles.
So who is Stomp? Glad you asked. Here are a few facts about Tri-C's newest enrollee.
Height: 7 feet tall, horns to toes
Tri-C Major: Plant Science
Jersey Number: #63, for the year Tri-C opened
Favorite Cartoon: Flintstones
Favorite Movie: Jurassic Park
Favorite Music: Anything featuring horns
Favorite Food: Partial to salads — really, really big salads
Favorite Off-Campus Spot: Cleveland Museum of Natural History
September 09, 2019
John Horton, 216-987-4281 john.horton@tri-c.edu