Auto Dealerships Deliver for GM ASEP Program at Tri-C
Serpentini and Ganley auto groups help bring donated vehicle to Western Campus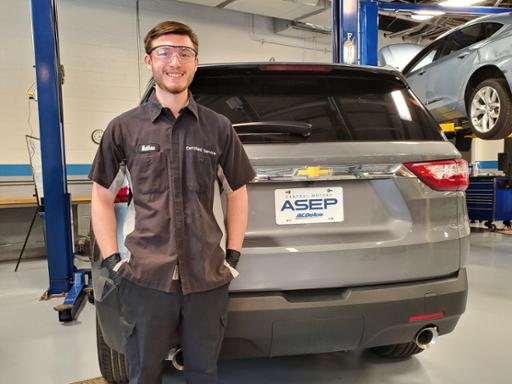 Two Northeast Ohio auto dealerships helped deliver a big gift to students in the General Motors Automotive Service Educational Program (GM ASEP) program at Cuyahoga Community College (Tri-C®). 
Chevrolet dealerships with Serpentini Auto Group and Ganley Auto Group covered a $900 towing bill to bring a 2018 Chevy Traverse to Tri-C's Advanced Automotive Technology Center at Western Campus. The SUV — donated to the College by GM — was in Michigan. 
The two auto dealership families are part of Tri-C's GM ASEP Advisory Committee. 
"The College has very involved community partners," said Kitty McCarthy, director of the Auto Tech program. "When the people at Serpentini and Ganley heard we had the opportunity to get the Traverse, they asked how they could help. Next thing we knew, the vehicle was here." 
The Traverse joins a collection of vehicles at Tri-C that GM ASEP students use for hands-on training. The donated vehicles allow future automotive technicians to learn while working on models they'll see on the job. 
Students alternate between classroom training and paid internships at a sponsoring GM dealership or ACDelco Professional Service Center. This combination of school and work experience reinforces the technical knowledge required for career success. 
Upon graduation, students typically leave campus with an Associate of Applied Science degree and a full-time job offer. Serpentini and Ganley dealerships currently employ nearly two dozen alumni from the College's program, with more currently in training. 
Visit tri-c.edu/autotech for more information on GM ASEP and similar programs.
August 10, 2020
John Horton, 216-987-4281 john.horton@tri-c.edu