AT&T Awards Tri-C $70,000 for Hispanic Student Scholarships
AT&T Aspire contribution announced during College's Hispanic Scholarship Luncheon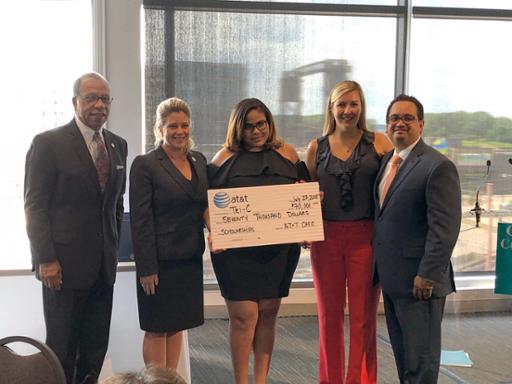 Cuyahoga Community College (Tri-C®) has been awarded $70,000 through the AT&T Aspire initiative to support the College's Hispanic Scholarship Fund and create future educational opportunities for Hispanic students.
AT&T Director of External Affairs Nicolette Jaworski presented the contribution to the Cuyahoga Community College Foundation during Tri-C's annual Hispanic Scholarship Luncheon, held today at Aloft Hotel in Cleveland.
"Through our AT&T Aspire initiative, we're proud to continue our support of the Tri-C Foundation's Hispanic Scholarship Fund, which helps students achieve their dreams and earn their degrees," Jaworski said.
More than 70 Hispanic students received $70,000 in scholarships during the luncheon. The event is sponsored by the College's Hispanic Council and held in honor of Hispanic access and achievement in higher education.
The scholarships for the 2018-2019 academic year were awarded through the Tri-C Foundation. The Foundation established the scholarship fund more than a decade ago to provide financial assistance to qualified Hispanic students.   
"Thanks to the generosity of supporters like AT&T, these scholarships provide greater access to higher education," said Megan O'Bryan, president of the Tri-C Foundation. "This investment in people opens doors for the region's future leaders to build their success."
This year's luncheon also honored the 25th anniversary of the Hispanic Council, which formed in 1993 to introduce Hispanic students to the resources they need to succeed. More than 1,400 Hispanic students took classes at the College last year.
The Council serves as a one-stop shop for Hispanic students to receive guidance in everything from academics to residency status. It also offers bilingual assistance with enrollment, financial aid, class registration and English as a Second Language (ESL) courses.
The Hispanic Council also stays active in Northeast Ohio's Hispanic community. It has been a key partner in Bienvenidos a Cleveland, a project assisting Puerto Rican families relocating to Cleveland following the devastation of Hurricane Maria.
About Philanthropy & Social Innovation at AT&T: AT&T Inc. is committed to advancing education, strengthening communities and improving lives. Through its community initiatives, AT&T has a long history of investing in projects that create learning opportunities; promote academic and economic achievement; or address community needs. The company's signature philanthropic initiative, AT&T Aspire, drives innovation in education to promote student success in school and beyond. With a financial commitment of $450 million since 2008, AT&T is leveraging technology, relationships and social innovation to help all students make their biggest dreams a reality.
July 27, 2018
John Horton, 216-987-4281 john.horton@tri-c.edu