Association of Community College Trustees Honors Tri-C President Alex Johnson
2018 Regional Chief Executive Officer Award reflects leadership and results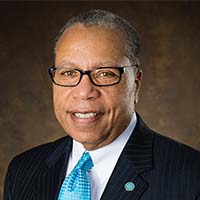 The Association of Community College Trustees today announced Cuyahoga Community College (Tri-C®) President Alex Johnson as the recipient of its 2018 Central Regional Chief Executive Officer Award.

The honor from the national organization recognizes exceptional contributions by community college leaders to meet the needs of their communities. Johnson is one of five regional award recipients from across the country.

Johnson was nominated by Victor Ruiz, chairman of the College's board of trustees.

The nomination highlighted Johnson's leadership in reshaping the student experience at Tri-C, with a strong focus on access, retention and completion. The College's federally tracked graduation rate has quadrupled since he became president five years ago.

The accomplishments reflect a collaborative campus environment fostered by Johnson to involve faculty, staff and trustees in all aspects of student success, leading to record-setting commencement numbers.

"Dr. Johnson is invested in the success of Northeast Ohio's citizens, and he continues to build a culture of integrity, transparency and success for all constituents," Ruiz wrote.

Johnson serves on various national and local boards dedicated to student achievement and social progress. That involvement includes work with the American Association of Community Colleges, where he is chair-elect of the board of directors.

The regional award from the Association of Community College Trustees (ACCT) will be presented to Johnson at the organization's 49th annual Leadership Congress, scheduled for October in New York.

The regional award makes Johnson a nominee for the ACCT's prestigious Marie Y. Martin Chief Executive Officer Award, given annually to a chief executive officer who demonstrates a commitment to excellence in advancing the community college movement.

The ACCT represents elected and appointed trustees who govern more than 1,200 community, technical and junior colleges across the United States. These institutions collectively serve more than 11 million students a year.
August 13, 2018
John Horton, 216-987-4281 or john.horton@tri-c.edu