An Upward Climb
Lauren Anderson overcame her fears to excel in Tri-C's Plant Science program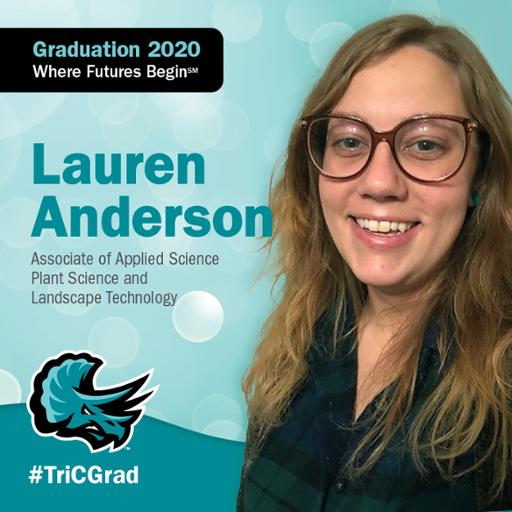 When a professor literally told Lauren Anderson and her classmates at Cuyahoga Community College (Tri-C®) to "go climb a tree" as part of an arboriculture course, she was more than a little hesitant. 
"I have a fear of heights, so the idea was terrifying to me," she said. "I had every intention of not doing it. But after learning more, taking baby steps, I finally did it. I climbed that tree." 
That wasn't the first time the 31-year-old Rocky River resident overcame fear and uncertainty to achieve one of her goals — nor would it be the last. 
Anderson will graduate from Tri-C later this month with an Associate of Applied Science degree in plant science and landscape technology. But the budding horticulturist nearly chose a very different path. 
As a child, Anderson loved creating art. So when she received a scholarship from the Columbus School of Art & Design right out of high school, it seemed like a no-brainer. 
After just three semesters at the college, though, Anderson dropped out. Her creativity felt stifled. 
Back home in Northeast Ohio, she decided to redesign her parents' front garden. Growing up, she had always helped her mom plant flowers. Her new project rekindled that love of working outdoors. 
A neighbor noticed Anderson's interest in plants and took her on a tour of the greenhouse where they worked. It was there that Anderson discovered her true passion. 
"It felt like heaven to me," she said. 
Anderson enrolled at Tri-C in 2017 and soon began receiving accolades for her 3D landscape design work. She placed first in the event at the 2018 National Collegiate Landscape Competition, followed by another first-place finish and championship win in 2019. 
She credits Tri-C staff with helping her navigate her college journey as a nontraditional student. 
"The fear of failure almost stopped me from trying at all," Anderson said. "But with help from my instructors, I discovered I could do more. It's empowering how much knowledge you can gain from doing things that scare you." 
Like many others, Anderson's career has been put on hold by the COVID-19 pandemic. Fortunately, she has found a way to make a living that combines her artistic talent with her love of plants: creating floral arrangements for small weddings and other events. 
"If I could work as a horticulturist, I'd be happy. If I could work as a florist, I'd be happy. I just want to do something where I enjoy going to work every day," she said. 
Wherever she lands, though, Anderson knows that her Tri-C education has prepared her for it. 
"The program was life-changing," she said. "Not only did I learn about the plants I love, but I also grew as a person." 
Cuyahoga Community College will celebrate the academic achievements of its newest graduates during a Dec. 17 virtual commencement ceremony. Check our News and Events page leading up to the online event as we highlight members of the Class of 2020.
December 14, 2020
Beth Cieslik, 216-987-4538 beth.cieslik@tri-c.edu