An Overnight Success
Online courses offered Charulatha Vijayakumar an after-hours path to a degree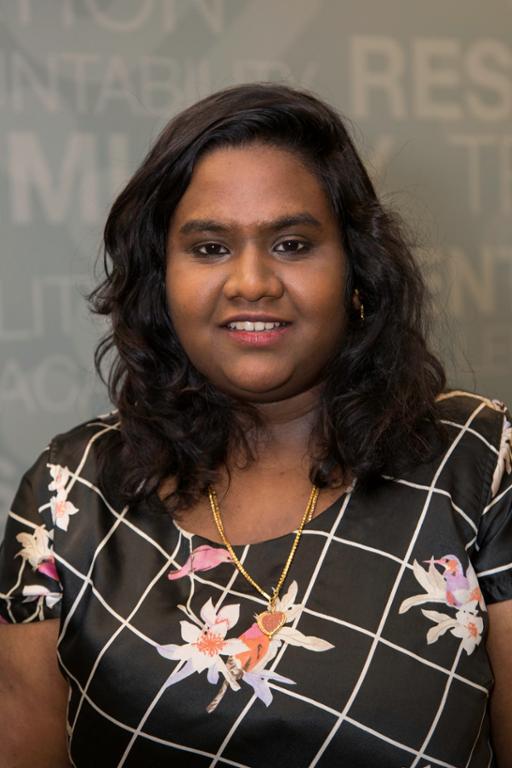 Charulatha Vijayakumar closed the cover on Goodnight, Stinky Face and turned off the lights in her daughter's bedroom. Another day over. Another night of studying about to begin.
Online classes at Cuyahoga Community College (Tri-C®) provided the full-time mom a late-night portal to higher education. She stayed up until 2 a.m. most nights reading dense business textbooks and taking tests.
"These classes opened up opportunity for me," the sleep-deprived 28-year-old said. "They're the reason why I'm going to be graduating."
Vijayakumar turned two years of overnight sessions and weekend classes at Tri-C into an Associate of Applied Business degree with a focus on international business. She will graduate with a flawless 4.0 GPA.
Classmates selected Vijayakumar — a member of the College's Honors Program — to serve as student speaker at commencement and share her story of determination.
"I just did what I had to do," she said. "You find a way to succeed."
Vijayakumar moved to the United States from her native India in 2014 after her husband, Dhanajayan, landed an IT job in Northeast Ohio. The couple had their daughter, Sanjana, the following year.
She stayed home with the infant — a big change from her life in India, where she worked at an investment bank. Vijayakumar holds a master's degree in business administration from Vellore Institute of Technology in India.
"I could feel my brain turning into mush," she said. "I had to do something."
She discovered Tri-C and immersed herself in a leadership development program at Eastern Campus, not far from her home in Willoughby Hills. She earned a certificate in advanced leadership skills in 2017.
Vijayakumar then began working toward her associate degree, juggling courses with her responsibilities at home. She took advantage of online and hybrid classes at the College to fit academics into her schedule.
The flexibility of e-learning even allowed Vijayakumar to continue her studies at Tri-C after her husband's job took the family to Fort Wayne, Indiana, earlier this year. She credited Dhanajayan with providing extra support at home to help her meet her goal.
Her next step is to find a job to build her resume and gain work experience in the United States.
"I have been so happy with what Tri-C offered," Vijayakumar said. "I was able to build my business skills even while staying home with my daughter. I really feel like I accomplished something."
Cuyahoga Community College will celebrate the academic achievements of more than 1,800 graduates on Dec. 18 at Fall Commencement. Check our News and Events page in the days leading up to the ceremony as we highlight members of the Class of 2018.
December 17, 2018
John Horton, 216-987-4281 john.horton@tri-c.edu