An Investment in the Community: MetroHealth Awards $1 Million to Tri-C
Gift will go toward scholarships and the opening of a new Tri-C Access Center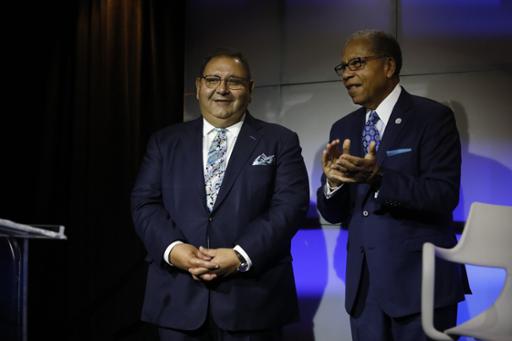 Cuyahoga Community College (Tri-C®) today announced a $1 million gift from The MetroHealth System to better connect community members to life-changing academic and workforce training programs.
The donation launches a scholarship fund and provides seed money to open a Tri-C Access Center at MetroHealth's new Institute for H.O.P.E. (Health, Opportunity, Partnership and Empowerment).
The community investment builds on a longstanding partnership between the College and MetroHealth. It supports Tri-C's focus on workforce development and training residents for jobs with family-sustaining wages in fields with growth potential.
The gift was announced at the Cuyahoga Community College Foundation's Presidential Scholarship Luncheon.
"It's partnerships like these that build stronger, healthier communities," said Dr. Akram Boutros, president and CEO of MetroHealth. "We're grateful to Tri-C for helping build better futures for the residents of our West Side neighborhood and beyond."
Scholarships granted through the donation will benefit students enrolled in more than 30 health careers programs at Tri-C. The College leads Ohio in awarding associate degrees in health professions.
Assisting residents in the neighborhoods surrounding the urban hospital will also be a priority for the MetroHealth Empowering Communities Endowed Scholarship Fund.
The Tri-C Access Center planned for the MetroHealth campus will begin offering programming this spring. It will be the College's third Access Center. Tri-C started the project earlier this year to bring its programs into neighborhoods and remove barriers to higher education.
The Access Center will be incorporated into MetroHealth's planned Institute for H.O.P.E. The institute will function as a neighborhood hub offering resources to help residents live healthier and more meaningful lives.
"Tri-C and MetroHealth share a deep commitment to connecting people in our community to opportunity," said Alex Johnson, president of the College. "This generous gift will help put dreams within reach for countless individuals in Northeast Ohio."
In appreciation of MetroHealth's dedicated work on behalf of Tri-C students and programs, the College announced today that it will rename a building at Metropolitan Campus in recognition of the health system.
The new name — the MetroHealth Science and Health Careers building — reflects the enduring impact MetroHealth has made at the College over the past two decades. A dedication ceremony will be scheduled at a later date.
October 11, 2019
John Horton, 216-987-4281 john.horton@tri-c.edu