An Evening of Balinese Music and Dance at Tri-C
The acclaimed Gamelan Çudamani ensemble to perform Oct. 2 at Eastern Campus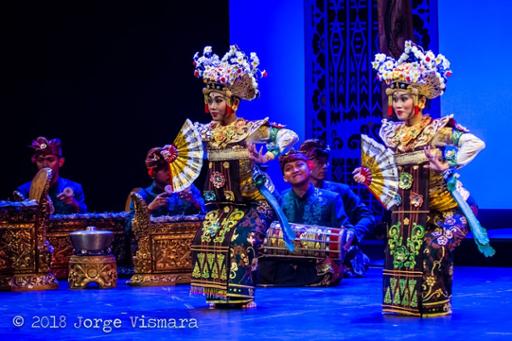 Tales of gods and heroes from Balinese mythology will come to life onstage at Cuyahoga Community College (Tri-C®) Oct. 2 as Gamelan Çudamani brings the Indonesian island to Northeast Ohio.
The music and dance ensemble's American tour stops at Tri-C's Eastern Campus at 7:30 p.m. Wednesday, Oct. 2. The performance will take place in the Simon and Rose Mandel Theatre.
Gamelan Çudamani features 24 young performers from the village of Pengosekan. The group performs a diverse repertoire with technical precision, a high collective spirit and an impressive understanding of artistic nuance.
Musically, the Gamelan Çudamani orchestra weaves layers of sound ranging from the deep tones of bronze gongs to the delicate notes of the flute. The semarandana instruments — which feature seven tones rather than the usual five — provide freedom to play in unusual modes.
Dances performed by the group include the classic legong, a form of dance that originated in the 19th century as royal entertainment.
"This performance offers a glimpse into a fascinating culture on the other side of the world," said Terri Pontremoli, director of Tri-C Performing Arts and Tri-C JazzFest. "This is truly a unique opportunity."
Tickets are $22 and can be purchased at Eventbrite.com or by calling 216-987-4444.
Tri-C's 2019-2020 Performing Arts season features 10 productions showcasing classical piano, jazz and dance. It is designed to bring a world-class artistic experience to the Greater Cleveland community. To learn more, visit www.tri-c.edu/performingarts.
September 13, 2019
John Horton, 216-987-4281 john.horton@tri-c.edu