An American Dream
Seeking a better life, Adolphe Musanga's journey took him thousands of miles to the U.S. — and to Tri-C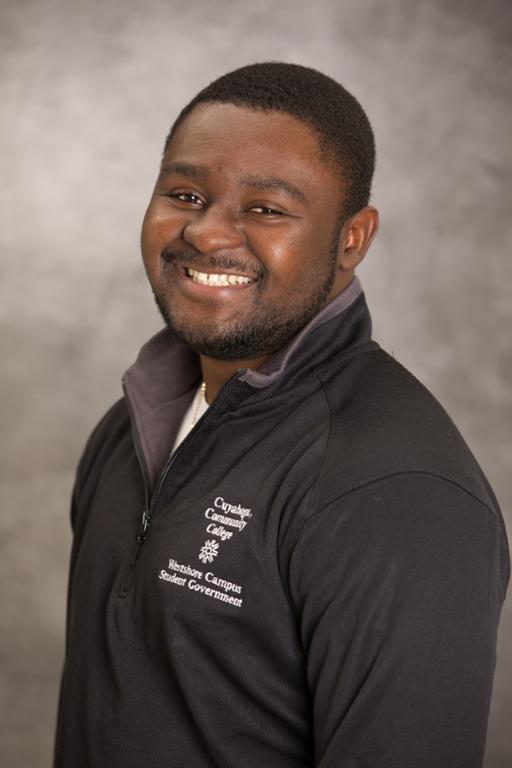 Adolphe Musanga knew he couldn't stay in Congo.
"By the time I got to high school, I realized there was a lot of nepotism and corruption," Musanga said. "If you wanted to get a good job, move up in life, you had to know somebody. That's not a position my family was in, so I knew I couldn't stay."
That was in 2015. Four years later, Musanga is about to graduate from Cuyahoga Community College (Tri-C®) with an Associate of Arts degree and is eyeing a career in business. He's also about to become a published author.
But the road from his African homeland to Tri-C wasn't direct. His initial search for colleges landed him in San Diego, where he found sunshine and high tuition. Musanga knew he needed a less-expensive option.
After two months in California, he moved to Cleveland and stayed with an aunt. That's when Musanga enrolled at Tri-C.
But it was still — literally — a long road to a degree. His aunt lived in Brook Park; the classes he needed to take were about 15 miles away at Corporate College® West in Westlake. And he had no car.
"I had to ride a bus downtown, connect, and then take other buses out to Westlake," Musanga said. "I spent three or four hours on a bus each day. On top of that, it was winter. I wasn't used to cold weather, and I still didn't know English all that well. It was tough in the early going."
But Musanga didn't back down from the challenge. He worked tirelessly at improving his English, watching instructional videos and taking every opportunity he could to converse with faculty, staff and classmates.
He was just as dedicated to his studies, becoming a member of the Jack, Joseph and Morton Mandel Scholars Academy and, this spring, earning a place on the All-Ohio Community College Academic Team.
"I became involved in as many things as I could fit into my schedule," he said. "I never let myself forget that graduation, and a better life, was my goal — even as I went through the pain of all that change."
Eventually, Musanga was able to stop taking the bus. He bought a car and began supporting himself by driving for Uber and Lyft.
As he drove passengers around Cleveland, he shared his story.
"Hearing the response from my passengers inspired me to write a book about my journey," he said. "I want people to learn from it. I want to remind everyone how much of the world doesn't have what we take for granted here.
"I came from a place where many people have no electricity and have to walk miles to get clean water. Here, your basic needs are met, and you know if you work hard, it's possible to have goals and reach for them."
His book, From Congo to Cleveland, will be published on Amazon next week.
Musanga will move on to Cleveland State University this fall to major in business and entrepreneurship. He hopes to use money from his book sales to start an import business after he graduates from CSU.
But none of it would have been possible if not for the impact Tri-C made on his life.
"The people at Tri-C cared about me not just as a student, but as a human being," Musanga said. "When I needed something to lean on, Tri-C was there. No matter if it was during or after class, with my studies, resources, financial aid or extracurricular activities, I always had that support.
"I can say, without embellishing, that Tri-C is making my dreams possible."
Cuyahoga Community College will celebrate the academic achievements of thousands of students on May 16 at Spring Commencement. Check our News and Events page in the days leading up to the ceremony as we highlight members of the Class of 2019.
May 08, 2019
Erik Cassano, 216-987-3577 erik.cassano@tri-c.edu