An Academic Revival
Kacie Miller earns associate degree following two academic dismissals from the College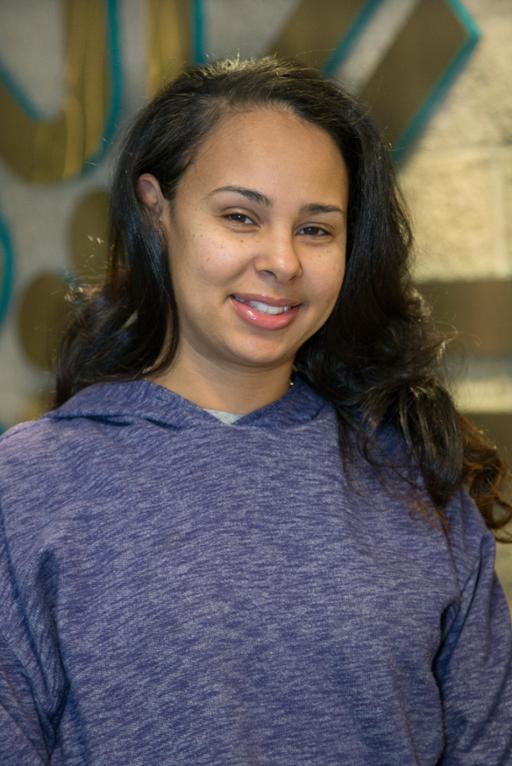 Kacie Miller recently found a faded transcript documenting her first semesters at Cuyahoga Community College (Tri-C®). Three F's and a D filled that early academic record. Her GPA stood at 0.25.
Those results led to her first academic dismissal from the College. Another followed a few years later.
"That's the student I was," Miller said. "It's not the student I am now."
Proof of that comes later this month with a cap-and-gown moment on Tri-C's commencement stage. Miller will graduate from the College with an Associate of Arts degree and a GPA knocking on 3.0.
Miller's academic turnaround began in 2016 when she enrolled at Tri-C for the fourth time. Failing grades derailed her plans in 2004, 2010 and 2013.
"I was embarrassed by that," said Miller, 34, of Cleveland. "I knew I had to do better."
She returned to Metropolitan Campus with a new mindset and — better yet — a plan for success. Academic counselor Robert Patterson worked with Miller to chart a clear path to a degree.
Patterson said he saw a spark in Miller when she walked into his Counseling Center office: "A person that keeps coming back wants something," he said. "You could see that she had decided to get serious about her studies."
Miller said she followed Patterson's plan step by step. She pushed herself in classes, too, filling gradebooks with A's and B's.
The mother of three said she found inspiration in her children — Xavier, 13; Cynia, 10; and Dalilah, 5. She said she wants to set an example for them as they work their way through school.
After commencement, Miller plans to continue her studies in the College's Physical Therapist Assisting program. She also intends to pursue a bachelor's degree to build a career in the health care field.
Miller currently works as a medical assistant at St. Vincent Charity Medical Center in Cleveland.
"I have goals and a plan to reach them," Miller said. "I have confidence now that I didn't have before. If you change your mentality, you can change your life."
Cuyahoga Community College will celebrate the academic achievements of more than 1,800 graduates on Dec. 18 at Fall Commencement. Check our News and Events page in the days leading up to the ceremony as we highlight members of the Class of 2018.
December 09, 2018
John Horton, 216-987-4281 john.horton@tri-c.edu