Alere Food Donations Receive Statewide Attention
Spectrum News 1 highlights student-run restaurant, which sends meals to St. Malachi Parish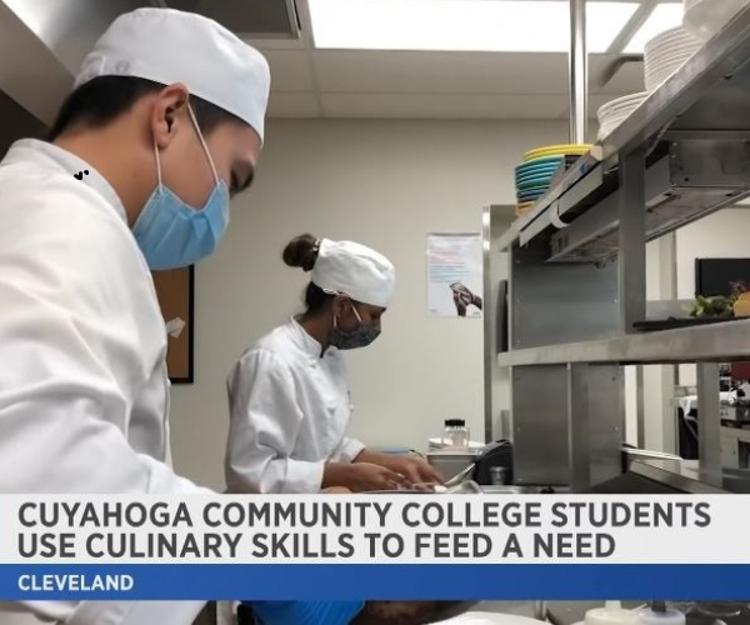 Alere's student staff has always made sure the meals they prepare find their way to empty stomachs. But the path is a bit different this semester, as the meals are routed to a ministry that feeds the area's hungry.

Spectrum News 1 recently highlighted the community efforts of the restaurant, located in Cuyahoga Community College's Jerry Sue Thornton Center on E. 22nd Street in Cleveland.

When COVID-19 closed Alere's reservation book for fall semester, the dining room's paying customers were replaced with paper cutouts, allowing students to continue training on proper table setting and wait service.

But with no customers to feed, the food had nowhere to go after class. That's when Alere started working with St. Malachi Parish in Cleveland's Ohio City neighborhood.

Every Wednesday and Thursday, restaurant staff drops off between 20 and 25 meals at the parish, which feeds local residents in need through its Back Door Ministry.

"We're able to service the students by doing a face-to-face, on-ground class, and then the students are able to service their community with the food product that they create. So, it's a win-win," Deanna Manners told Spectrum News 1. Manners is an assistant professor in the College's hospitality program.

Learn more about Alere by visiting the restaurant's webpage.
October 20, 2020
Erik Cassano, 216-987-3577 or erik.cassano@tri-c.edu