AJC Cleveland Honors Tri-C President Alex Johnson
Service to others leads to 2020 Richard H. Adler Community Leadership Award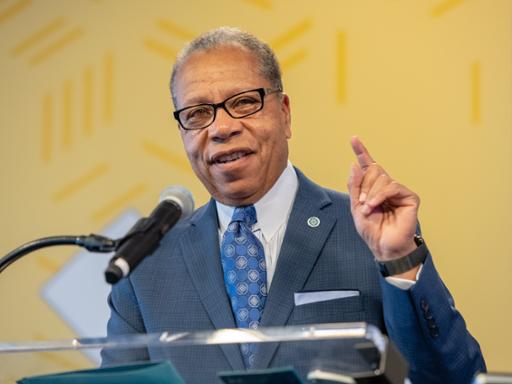 Cuyahoga Community College (Tri-C®) President Alex Johnson is being honored by AJC Cleveland (American Jewish Committee) for his service and commitment to Northeast Ohio. 
The organization recently selected Johnson for the 2020 Richard H. Adler Community Leadership Award. The distinction is given to civic leaders who make an exceptional impact on the community and the lives of its residents. 
Tom Adler, co-chair of the award reception named in his father's memory, commended Johnson for his inspirational and life-changing leadership. He said Johnson has helped create an environment of success. 
"His innovative vision has transformed Cleveland, expanded opportunities for higher education and enabled a generation of students to achieve their dreams," Adler said. 
Johnson has served as Tri-C president since 2013 and reshaped the student experience with a strong focus on access, equity and success. Graduation rates and totals have reached record numbers and continue to climb under his guidance. 
His leadership extends off campus and into the community. Examples include leading a citywide commemoration of Carl and Louis Stokes; co-chairing the selection committee for the Cleveland Community Police Commission; and supporting the creation of Tri-C's Stand for Racial Justice alliance.
Recently under Johnson's leadership, Tri-C was selected as intermediary for the Workforce Connect Healthcare Sector Partnership. 
"I am proud to accept, on behalf of Tri-C, the Adler Award from AJC Cleveland, who we join in helping to make Cleveland a city where all are welcome and able to thrive," Johnson said. "We look forward to our collaboration for years to come." 
Since 1996, the AJC has presented the award as a tribute to Richard H. Adler's legacy and vision for Cleveland. Adler demonstrated the highest ideals of leadership, commitment to community and philanthropy through his professional and volunteer work. 
This year's reception will not take place due to the COVID-19 outbreak. The AJC intends to recognize Johnson next fall while also honoring its 2021 recipient.
November 16, 2020
John Horton, 216-987-4281 john.horton@tri-c.edu