Ahead of Pace: Earning a College Degree Before a High School Diploma
81 College Credit Plus students graduated from Tri-C in 2020 before finishing high school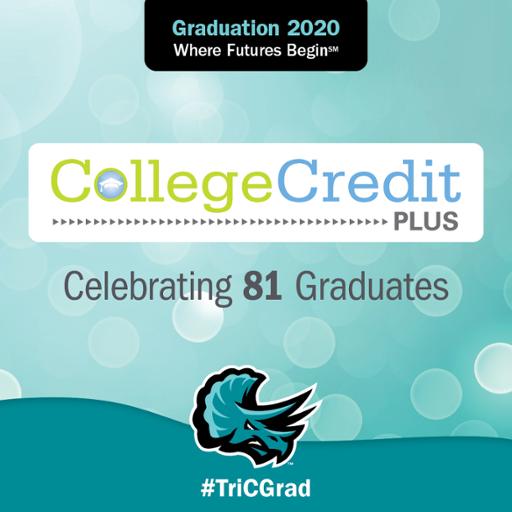 Graduating from college before high school? Eighty-one teens attending Cuyahoga Community College (Tri-C®) made that seemingly out-of-order statement a reality in 2020. 
Each student earned an associate degree or certificate from Tri-C this year through Ohio's College Credit Plus program. The dual enrollment system allows students to earn college credits while meeting high school graduation requirements. 
The following College Credit Plus students, listed by hometown, earned degrees or certificates at Tri-C during the past year. They will be among more than 4,700 graduates honored at the College's 2020 Fall Commencement. 
Avon: Daliah Kassim
Bay Village: Jake Mlakar
Bedford Heights: Thomas Hailey, Shabrionna Fadzl
Berea: Madison Thomas
Brecksville: Parker Owen, Roger Tascar
Broadview Heights: Clorise Busch
Brunswick: Trinity Coughlin, Jennifer Drum, Leah Gluck, Sarah Gluck, Julia Partem, Hope Stasik
Cleveland: Nina Abercrombie, Syed Ahmed, Carla Ayala, Charlie Ayala, Nyandia Ballah, David Byrne, Sydney Chavis, Torian Ellison, Joshua Hill, Meiyah Hill, Kailey Laws, Zariah Mitchell, Kayla Ontko, Noel Pacheco, Bre-Ann Phillips, Andrea Sawyer, Anthony Soos, Taniya Williams 
Cleveland Heights: Maya Ford, Arienna Hauser-Brown, Laila Shotwell 
East Cleveland: Ciera Gambrell 
Euclid: Madison Crenshaw 
Fairview Park: Isabella Kolodny, Julia Polyak 
Garfield Heights: Gabriela Irvine
Highland Heights: Rysheen Hooks-Keck 
Hinckley: David Woodall 
Lakewood: William Yeung 
Maple Heights: Alexis Rogers 
Medina: Kaydee Clark, Allen Kirlough, Brandon Schramm, Jordan Waddell 
Middleburg Heights: Mary Hiros, Alayna Soukup 
North Olmsted: Yousef Mustafa, Alexander Strekal 
North Ridgeville: Alexander Pickens 
North Royalton: Marko Krieger 
Olmsted Falls: Reilly Boros 
Olmsted Township: Cristina Honchuk 
Parma: Joseph Kensicki, Mason Kopy, Irene Penkalskiy, Andrew Yarmolyuk
Parma Heights: Solomiia Dmytrenko, Anna Marsick 
Pepper Pike: Aya Adhami 
Richfield: Jonathan Gum 
Richmond Heights: Amber Bennett, Kendall Phillips 
Rocky River: Grace Gascoigne                        
Sagamore Hills: Michael Farrar 
Seven Hills: Lauren Lee, Mark Maguth 
Seville: Jenna Gooch 
Shaker Heights: Sydney Scott 
Solon: Isabel Ruiz Flint 
South Euclid: Shalea Williams 
Strongsville: Giorgio Dushaw, Makayla Glenn, Jessica Larson, Shahzeb Malik, Lyle Rijos, Mahmood Sabieh, Jenna Yasin 
Ohio debuted College Credit Plus in 2015 to improve educational attainment and career readiness for young residents while strengthening the bridge between high school and higher education. 
The goal is to reduce the time and expense of earning a college degree. State education dollars pay for the program, meaning there is little or no cost for participating students and their families. 
College Credit Plus students at Tri-C studied their way to nearly 40,000 college credits during the 2018-2019 academic year, according to the most recent state report on the program. Those credits carried a tuition value of more than $4.5 million. 
The program is open to teens in grades seven through 12 who are academically ready for more rigorous coursework. For more information, visit tri-c.edu/college-credit-plus.
December 15, 2020
John Horton, 216-987-4281 john.horton@tri-c.edu