A Successful Year: Tri-C Fall Commencement Celebrates 4,700+ Graduates
Virtual ceremony honors academic achievement by the Class of 2020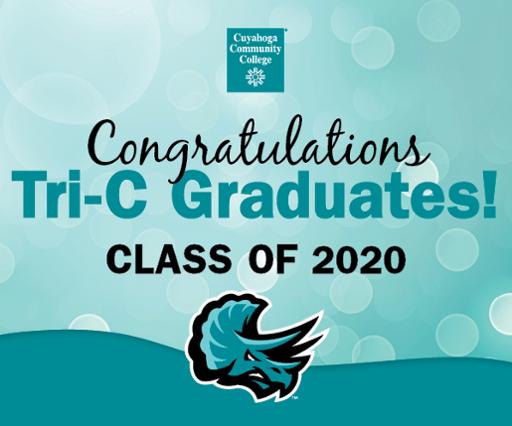 Cuyahoga Community College (Tri-C®) will celebrate the academic achievements of more than 4,700 petitioning graduates during a virtual Fall Commencement ceremony at 6 p.m. Thursday, Dec. 17. 
The online celebration will honor Tri-C's Class of 2020 from spring, summer and fall semesters. 
The graduate total — which is near record highs — reflects the ongoing impact of College programs and initiatives designed to keep students on the path to associate degrees and certificates. 
This year's graduates stand out for their resilience, Tri-C President Alex Johnson said. They achieved even as the COVID-19 outbreak shattered the norms of day-to-day life. 
Rising coronavirus case counts continue to be reported across Northeast Ohio. That's why the College shifted commencement to a virtual event instead of the traditional, in-person ceremony that typically brings together thousands of people. 
"This past year has been difficult and even overwhelming at times," Johnson said. "But the graduates we will honor at commencement persevered through it all. They met every challenge to reach their goals. Their success is something to celebrate." 
A link to the online ceremony will be posted at tri-c.edu/commencement the day of the event. 
The student commencement speaker will be Jason Caruso, who graduated with an Associate of Arts degree after summer session. The 27-year-old cancer survivor was part of the College's Honors Program and earned multiple scholarships. 
The Lakewood resident has continued his studies at Cleveland State University, where he is on pace to graduate next spring with a bachelor's degree in political science. After that, it's on to law school. 
Classmates selected Caruso to share his inspirational story as student speaker at the ceremony. Read other stories from the Class of 2020 at tri-c.edu/commencement/graduate-stories.html. 
The College will also award an Honorary Doctor of Humane Letters degree to Carol Cartwright during the ceremony to recognize her commitment to the community and higher education. 
Cartwright's 45-year career has been distinguished by innovative teaching, pioneering research and national leadership. She served as president of Kent State University (1991-2006) and Bowling Green State University (2008-2011).
December 14, 2020
John Horton, 216-987-4281 john.horton@tri-c.edu