A Sign of Success
Olivia Culkar will use the skills she learned at Tri-C to benefit the deaf community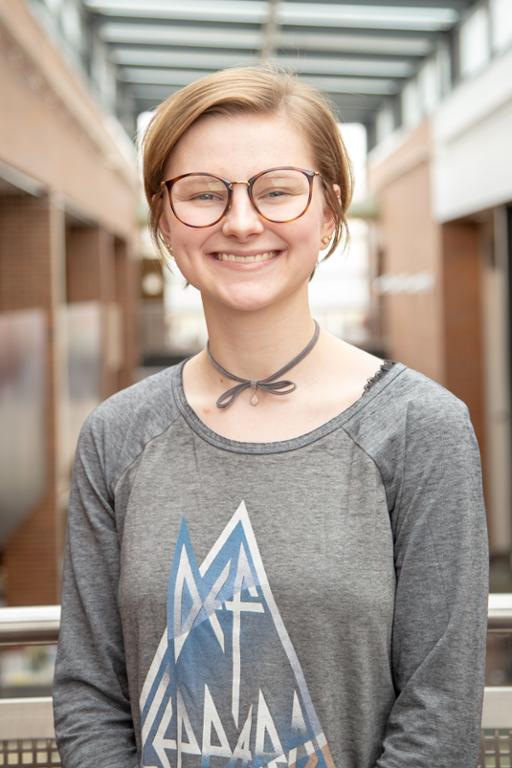 In Olivia Culkar's closet sits an old copy of The Art of Sign Language, its pages tattered from avid use. The 21-year-old from Brook Park developed an affinity for the language as a kindergartner, when she befriended a deaf classmate.
"When I met Jenny, I became fascinated by ASL [American Sign Language]," Culkar said. "I've been in love with it ever since."
On May 16, she'll receive an Associate of Applied Science degree in deaf interpretive services from Cuyahoga Community College (Tri-C®).
Culkar had classes with Jenny and her interpreter, Cindy Koontz, all the way through 12th grade. Koontz encouraged Culkar's language development by creating an ASL club and providing opportunities for her to socialize with the deaf community.
She also shared her experiences as a graduate of the Deaf Interpretive Services (DIS) program at Tri-C.
Culkar started taking classes at Tri-C's Western Campus in 2014 as a junior at Berea-Midpark High School. Two years later, she enrolled full time to pursue her own DIS degree.
Exceptional grades earned her an Honors Program Fellowship, which covered tuition for two full years. That assistance, coupled with her early start, helped Culkar earn an Associate of Arts from the College in fall 2017.
"I'd always loved school and learning, so when I saw I only needed a few more classes to earn the extra degree, I thought, 'Why not?'"
Culkar has logged more than 400 interpreting hours as part of the DIS program. She's interpreted for shows at Cedar Point, Deaf Awareness Day at the Cleveland Metroparks Zoo, the Tactile Carnival at the Cleveland Museum of Art and more — all while maintaining a 4.0 GPA.
"You get out of it what you put in," she said. "You've got to work to be successful. You've got to really want it."
Culkar will transfer to Cleveland State University this fall to major in communications. She hopes to work part time for an interpreting agency as she moves toward graduation and, eventually, national certification.
"Tri-C has absolutely prepared me to continue my education," she said. "I'm excited to move on. I'm ready to put my knowledge to good use."
Cuyahoga Community College will celebrate the academic achievements of thousands of students on May 16 at Spring Commencement. Check our News and Events page in the days leading up to the ceremony as we highlight members of the Class of 2019.
May 07, 2019
Beth Cieslik, 216-987-4538 beth.cieslik@tri-c.edu