A Sense of Direction
Jason Caruso's Tri-C degree is helping him chart a new life course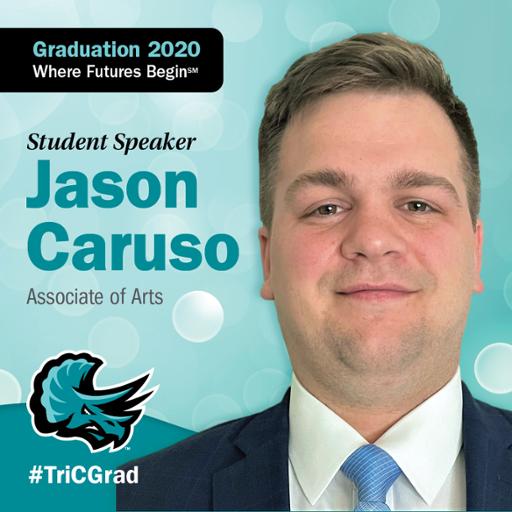 Jason Caruso is the student speaker for the Fall 2020 virtual commencement at Cuyahoga Community College (Tri-C®). When he delivers his speech to more than 4,600 graduates, his words about goal-setting, dreams and perseverance will come from personal experience: a 27-year life that has already been full of tremendous highs and lows. 
Caruso, of Lakewood, has been a model student since enrolling at Tri-C in fall 2018. He's been a member of the Honors Program and Phi Theta Kappa, has made the dean's list in three semesters and earned multiple scholarships — all while taking a heavy course load and working full time. 
He'll graduate magna cum laude with an Associate of Arts degree and will continue his studies at Cleveland State University. He began taking classes at CSU this fall and, thanks to his work ethic, he is on pace to graduate next spring with a bachelor's degree in political science. After that, it's on to law school. 
But as impressive as that list of accomplishment is, it's all the more impressive when you consider the shape Caruso's life was in before he enrolled at Tri-C. 
"I had tried to go to college before, but I didn't have my priorities straight," Caruso said. "I was at Ohio University for a year, but had to drop out in 2012 due to bad grades and some personal problems." 
Seeking direction and facing a large tuition debt, Caruso embarked on a five-year journey to find answers. They were all dead ends. 
"I kind of developed a 'get rich quick' mentality," he said. "I was running around aimlessly from job to job. Retail, insurance, startups where I was trying to track speculative markets with mathematical models. Basically, anything I thought would make me money. But it was all unfulfilling." 
Caruso leapt between jobs at a dizzying pace until life slammed on the brakes on Jan. 19, 2018. "I'll never forget the date I was diagnosed with cancer," he said. 
Caruso had surgery that winter, followed by rounds of chemotherapy in the spring. Unemployed and in treatment, he had ample time to think about the direction of his life. 
"It was a time of introspection and gaining a new outlook," he said. "My brother, who double-majored in psychology and nursing, talked to me about some of my past decisions. He told me the capacity to delay gratification is one of the biggest correlates of success. That really hit home for me, because I had always been about instant gratification. I was never able to put together a long-term plan for myself." 
In June 2018, Caruso's cancer was in full remission. He had a new beginning — and he decided to write the first chapter at Tri-C. 
"I had what I'd call a warm-up semester, where I kind of tested the waters of college again, but after that, I was committed to taking as many classes as I could," he said. "I took a full load in fall, spring and summer." 
Caruso said every Tri-C class, and every professor, has impacted him in some way. 
"Going in, you know the professor's job is to teach the material, but so many of the professors I had at Tri-C went above and beyond, working after classes, during office hours, giving you feedback," he said. "They want to help you. And I now believe you can take something from every class that can benefit your life. 
"That's really the attitude you have to have in school. I'm a big believer in finding a method that works for you to stay organized." 
For Caruso, that was a system of spreadsheets. Where previously he was prone to being distracted by whatever came next, he now consults spreadsheets to keep track of assignments, projects and other goals. 
In a few short years, Caruso has matured from a person without direction to a high-achieving student, a cancer survivor and, most recently, a father. His daughter is now three months old. 
"If you look at where I was a few years ago and where I am now, it's been a huge change for the better," he said. "My story is proof that you can turn the page and change your life, and I'm honored that I was chosen as the student speaker so I could share it." 
Cuyahoga Community College will celebrate the academic achievements of its newest graduates during a Dec. 17 virtual commencement ceremony. Check our News and Events page leading up to the online event as we highlight members of the Class of 2020.
December 16, 2020
Erik Cassano, 216-987-3577 erik.cassano@tri-c.edu