A Running Success: Tri-C Women's XC Team Claims NJCAA Regional Crown
Team headed to national championships for 19th consecutive season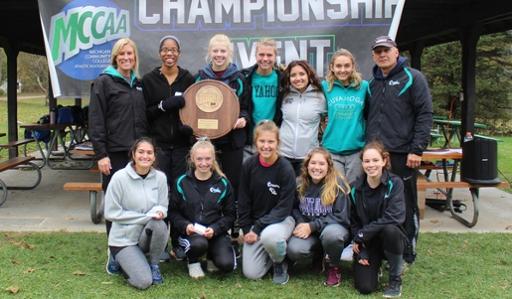 The Cuyahoga Community College (Tri-C®) women's cross country team claimed its first NJCAA Region XII championship while qualifying for the national championship race for the 19th consecutive year.
The Triceratops finished ahead of powerhouse Lansing Community College and two other schools ranked among the Top 25 in the country. Five Tri-C runners earned all-regional honors at the race, which took place Oct. 26 in Lansing, Michigan.
"It makes the season magical when you do something like that," said Tri-C coach Don Cox, who was named regional coach of the year. "I can't say enough about our runners. They just went out and won it."
Claudia Mendek of North Royalton led Tri-C with a fourth-place finish. She was followed closely by Hannah Heath of Sullivan (sixth), Hailey Vitolo of Perry (seventh), Hope Brown of Middleburg Heights (eighth) and Juliet Rayer of North Royalton (10th).
All five of Tri-C's all-region honorees ran personal best times for the season. The College's next two runners to cross the finish line — Samantha Agresta of Middleburg Heights and Kristen van't Veer of Ashtabula — also posted their best times of the year.
The Triceratops entered regionals ranked 17th in the country in the most recent U.S. Track & Field and Cross Country Coaches Association poll. The next poll comes out Wednesday.
The cross country championship follows 2019 regional titles in indoor and outdoor track. Cox said that this is the first time one school has captured all three Region XII crowns in a single calendar year.
The championship performance earned the team a ticket to the national cross country finals, which will take place Nov. 9 in Albuquerque, New Mexico.
October 28, 2019
John Horton, 216-987-4281 john.horton@tri-c.edu