A Risk Worth Taking
After leaving the Philippines in 2006, Tri-C alumna Jenika Gonzales followed a path mirroring that of many immigrants who have sought a new life in the United States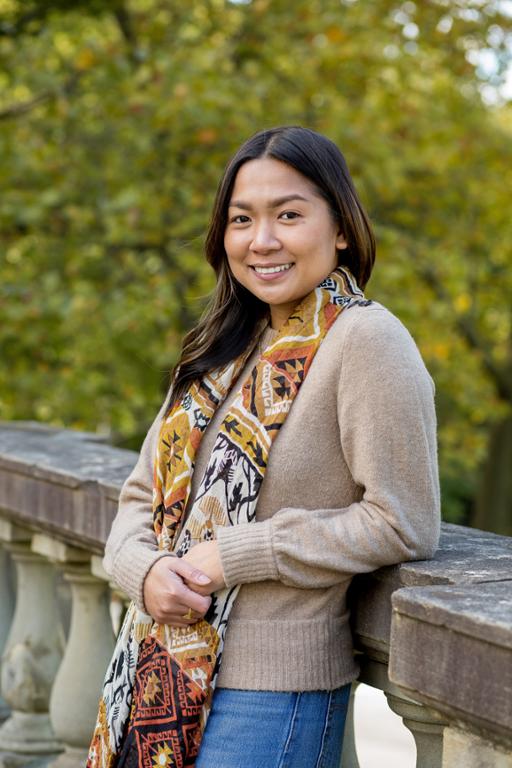 What is it like to risk everything to start a new life in a new country? 
Jenika Gonzales is part of a fast-growing number of Americans who can answer that question. Gonzales, a 2013 graduate of Cuyahoga Community College, came to the United States from the Philippines in 2006 — one of the estimated 1 million immigrants who arrive in the country annually. 
Her mother, Belina Joacabine, immigrated to the United States in the late 1990s, living in Los Angeles before moving to Cleveland to help take care of a family member. Gonzales experienced major culture shock when she joined her mother in the cold-weather Midwestern city, with its relatively small Filipino population. 
"The difference in culture was the biggest thing for me," she said. "You can't help but feel isolated in a new place. I came from a big house with a large family in the Philippines to living in an apartment with my mom in Parma." 
Almost immediately, Gonzales — 14 at the time — had to adjust to a new life on the other side of the world. The only way to overcome the initial intimidation was to meet it head-on. She enrolled at Normandy High School, taking every opportunity to meet people, make friends and integrate herself into the community. While at Normandy, she began taking art and design classes, which quickly became her passion. Soon, she began thinking about a career in graphic design. 
College options
After graduating from high school in 2008, Gonzales enrolled at the Cleveland Institute of Art. Though she knew she wanted to study graphic design, she still wanted to explore different career paths. However, the tuition cost soon made it impractical. She had to leave after one academic year. 
"My mom was honest with me — things were getting too expensive," Gonzales said. "So I had to come back to Parma and consider more cost-effective options." 
She enrolled at Tri-C in 2010. Initially, she considered Tri-C a stopgap until she could decide on her next steps. But once she began attending classes, she stopped thinking of Tri-C as a bridge and began thinking of it as her foundation. 
"There were so many different options," she said. "I could pursue a well-rounded education at Tri-C that went beyond just graphic design classes. I came in thinking it would be just a temporary thing, but it really became my launching pad." 
By the time she graduated from Tri-C in 2013 with an Associate of Arts degree, Gonzales had taken classes in marketing, photography and app design. She also found connections and support that helped her launch her career post-graduation. 
"One thing I've learned since coming to the U.S., and it's something Tri-C helped reinforce, is that you should work hard to connect with people," she said. "Never take anyone for granted. I still talk to people I know from high school, Tri-C and the different jobs I've worked. You never know how they can help you, or you can help them." 
Thinking globally
Since graduating from Tri-C, Gonzales has built her resume as a graphic designer through a variety of jobs and freelance work, including work for architectural firms and for Market Garden Brewery. 
It was through connections in the community that she learned of a designer opening at Global Cleveland, a nonprofit that seeks to aid newcomers and immigrants on the same journey Gonzales took 14 years ago. She was hired by Global Cleveland earlier this year. 
"It was a great fit for me," she said. "I could do what I love, which is graphic design, while making an impact for people who are just arriving in Cleveland from abroad." 
Gonzales is familiar with the grassroots support Global Cleveland provides for immigrants. In 2018, she hosted a series of fundraising dinners to help cover the paperwork cost of moving much of the rest of her family to the United States. The dinners raised more than $6,000, allowing 11 additional family members — including her siblings and their spouses and children — to begin writing their own American story. 
"My oldest brother is now in the Navy, living in Virginia Beach," she said. "My niece lives in the Cleveland area and is now at Tri-C, studying to become a nurse. Everybody is building a life for themselves here. It's wonderful to see." 
Gonzales, now 29, became a naturalized U.S. citizen in 2016. 
"It's hard to put everything on the line and move to a new country thousands of miles away, but we feel like we are lucky to have this chance," Gonzales said. "I'm here, with a career, doing what I love to do. That's what everybody in this country is seeking."
November 20, 2020
Erik Cassano, 216-987-3577 erik.cassano@tri-c.edu