A Recipe for Success
Commencement student speaker Susan Barlow cooked up a second career through Tri-C's culinary program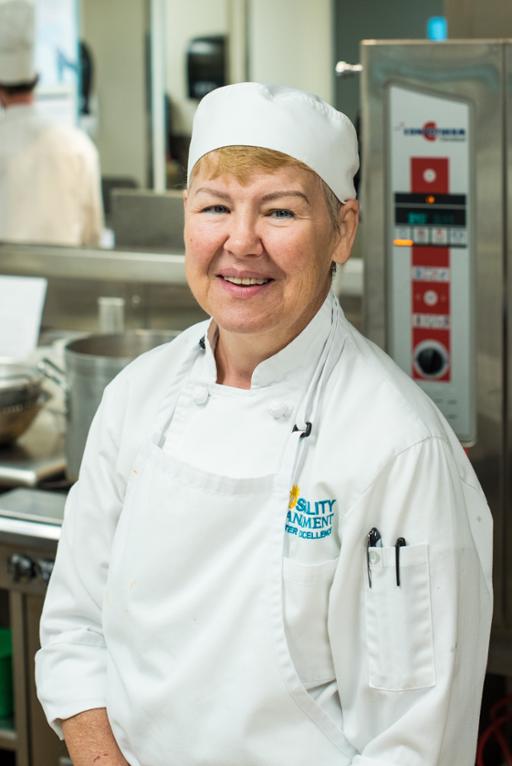 Susan Barlow didn't know where she was heading when she arrived at the Western Campus of Cuyahoga Community College (Tri-C®) in 2016. Literally, she was lost.
So she walked through an open door and into the office of Tri-C's Women in Transition program. The directions they gave that day led her to the College's 2019 Spring Commencement.
Barlow graduates from Tri-C with an Associate of Applied Business degree in culinary arts, three professional certificates and a 4.0 GPA.
How did she get to this point? Well, it's quite a story — and one the 63-year-old will share from the stage tonight as the student speaker at commencement. Classmates selected Barlow for the honor.
"I never expected to be in this spot," Barlow said of her return to college decades after earning her first degree. "But here I am, and I'm having a ball."
A successful career as a diabetes educator fills Barlow's resume. (She has lived with the disease since childhood.) She co-authored a book, published research and shared nutrition tips on a regular radio spot.
She eventually landed a high-level position representing pharmaceutical and medical device companies. It was a great job … right up until the company eliminated it.
Not yet ready to retire — "I have too much energy," Barlow said — she headed to Tri-C to find a new direction. Fate brought her to the Women in Transition office and the program dedicated to assisting women in transitional periods of their lives.
She said the eight-week course allowed her to explore her options.
"By the time I was done with the sessions, I was wowed by what Tri-C offered," Barlow said. "The school has more resources than a person could ever use. I saw so much opportunity here."
She enrolled in the College's culinary program, which meshed her love of cooking with her background in diet and health. She immersed herself in classes and daily life at the Hospitality Management Center on Cleveland's Public Square.
Barlow helped the culinary program set a world record by making the largest pierogi ever plated. She volunteered for a cooking program with youth from The First Tee of Cleveland. She worked various fundraising dinners.
"I like to keep busy," Barlow said. "So if they needed someone, I always said yes."
She also squeezed in shifts working the kitchen at Valenti's Italian Ristorante near her home in Broadview Heights. And through it all, she dotted her transcript with A's in every class over six semesters.
Barlow plans to return to Tri-C in the fall to earn a second associate degree in restaurant and beverage management. After that, she may pursue a master's degree in food science.
"I always tell people that you should love what you do and do what you love," Barlow said. "Tri-C brought together everything that I enjoy doing. It has been an incredible experience, and I feel like I'm just getting started."
Cuyahoga Community College will celebrate the academic achievements of thousands of students on May 16 at Spring Commencement. Check our News and Events page in the days leading up to the ceremony as we highlight members of the Class of 2019.
May 16, 2019
John Horton, 216-987-4281 john.horton@tri-c.edu