A Perfect 10: Tri-C Brings Home Awards for Marketing and PR Work
College receives 10 Medallion Awards at regional conference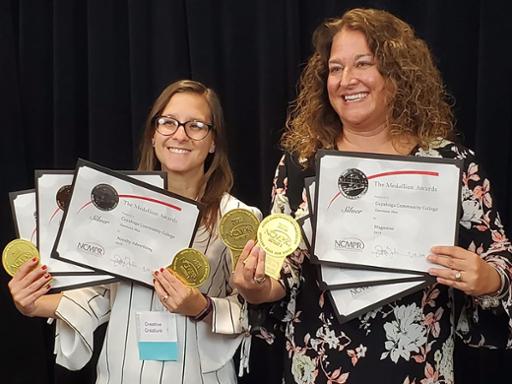 The story of Cuyahoga Community College (Tri-C®) gets told with award-winning excellence.
District 3 of the National Council for Marketing and Public Relations (NCMPR) recently awarded the College with 10 Medallion Awards, which recognize excellence in communications at two-year colleges. The district covers five Midwest states and the Canadian province of Ontario.
Tri-C's Integrated Communications Department took top honors in four categories, winning Gold Awards for:
In addition, the Summer 2019 edition of Tri-C Times won a Silver Award in the magazine category. A photograph of Tri-C professor James Badal included within that issue won a Bronze Award.
The year-long marketing campaign surrounding the launch of the College's Triceratops mascot received a Silver Award. Separately, a flyer featuring the new mascot logo earned a Bronze Award. 
The College also won Silver Awards for an academic overview brochure and a webcam cover designated as novelty advertising.
The district announced the awards during its annual conference in Milwaukee. NCMPR represents marketing and public relations professionals at community and technical colleges, with members from nearly 650 academic institutions across the United States and Canada.
October 04, 2019
John Horton, 216-987-4281 john.horton@tri-c.edu