A Path to Follow
Fall 2021 graduate Lizandra Eusebio blazes a trail for her family as first-generation college grad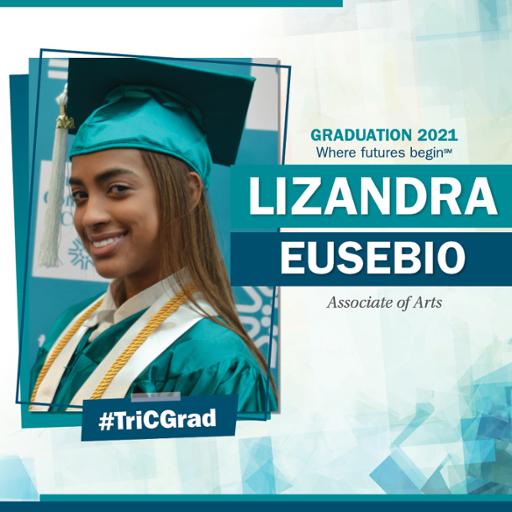 Lizandra Eusebio wants to set an example for her two younger siblings — a vision that will become reality when she graduates from Cuyahoga Community College (Tri-C®) this month.
Eusebio will receive an Associate of Arts in business at Tri-C's Fall 2021 Commencement ceremony on Thursday, Dec. 16, making her the first in her family to earn a college degree.
"My mom didn't finish school, and I'm the oldest sister," she said. "I thought that if I graduate from college, my siblings will want to follow me."
Eusebio immigrated with her family to Northeast Ohio from the Dominican Republic as a high school sophomore. She first became acquainted with Tri-C when she attended the Hispanic Education Conference, hosted by the College's Hispanic Council.  
After graduating from Thomas Jefferson International Newcomers Academy, Eusebio knew that Tri-C was the right place to start her college education.
"It's affordable, and it gave me a foundation for what college is like and what resources were available," she said.
Soon after beginning classes in 2019, Eusebio realized that she didn't enjoy studying biology (her original major) but discovered that she excelled in math. That's what led her into the financial realm.
"Finance is broad. You can work in a hospital, or you can get corporate experience," she said. "I don't have one idea [for a career], because I want to try a few things to explore what is right for me."
The next stop on Eusebio's academic path is Cleveland State University, where she plans to pursue a Bachelor of Business Administration in finance.
She said that the best part of her Tri-C experience was the opportunity to invest time in herself.
"You think that college is never going to end," she said, "but it does."
Cuyahoga Community College will celebrate the academic achievements of its newest graduates during commencement on Dec. 16 at the Wolstein Center in Cleveland. Check our News and Events page leading up to the event for more highlights of the Class of 2021.
December 12, 2021
By Anthony Moujaes, 216-987-3068 anthony.moujaes@tri-c.edu