A Long Road Toward Independence
Balqis Al-Shafei travels 7,000 miles to earn a Tri-C degree and learn life lessons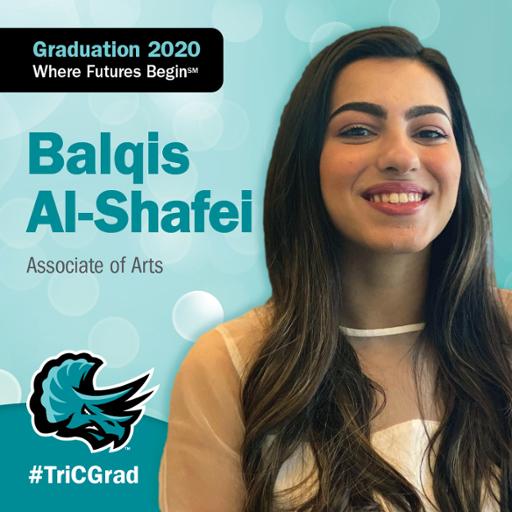 Balqis Al-Shafei moved nearly 7,000 miles from her homeland of Qatar to enroll at Cuyahoga Community College (Tri-C®) nearly three years ago. She arrived in Cleveland alone and on her own at age 18. 
The experience tested her both in the classroom and in life — and it's safe to say that she passed on both counts. Al-Shafei is set to graduate from Tri-C this month with an Associate of Arts degree. 
"There have been many moments where I felt homesick and wanted to leave," she said. "But I would not be the person I am today if I had stayed in Qatar."
That person is a leader who immersed herself in Westshore Campus life soon after beginning classes. Al-Shafei served as a student ambassador on campus before winning election as student government president last fall.
She took on those responsibilities while balancing a full-time class schedule and an internship with the College — all while adjusting to life in a new country and culture.
"The transition was pretty hard," Al-Shafei said. "I thought I would be hosting house parties like I saw in American movies, but then I experienced the realities of living on my own. Independence was something I was happy about, but had to learn."
Al-Shafei discovered Tri-C through relatives who left Qatar and settled in the United States. They lived in Ohio before moving to Chicago, where she visited them in 2017.
She started classes at Tri-C months later. Although Al-Shafei had no local ties, she quickly found a family at the College. Sara Williams, a student success specialist at Westshore Campus, filled a key role.
Al-Shafei said that Williams encouraged her to study and be a leader, giving her the courage to take chances. She said the message echoed the advice that her mother always gave her in Qatar.
"Whenever I felt I could not achieve my goals, [Williams] helped me to turn my focus back to my schoolwork and being a leader," said the 21-year-old, who lives in Westlake. "That's how my mom wanted me to be."
The confidence Al-Shafei built at Tri-C now carries her toward her next challenge. In January, she'll begin classes at Baldwin Wallace University to pursue bachelor's and master's degrees in business.
Cuyahoga Community College will celebrate the academic achievements of its newest graduates during a Dec. 17 virtual commencement ceremony. Check our News and Events page leading up to the online event as we highlight members of the Class of 2020.
December 04, 2020
Katie Utrata, 216-987-4582 katie.utrata@tri-c.edu