A Long Journey to a New Career
Petru Poenaru moved from his native Romania to pursue a nursing degree at Tri-C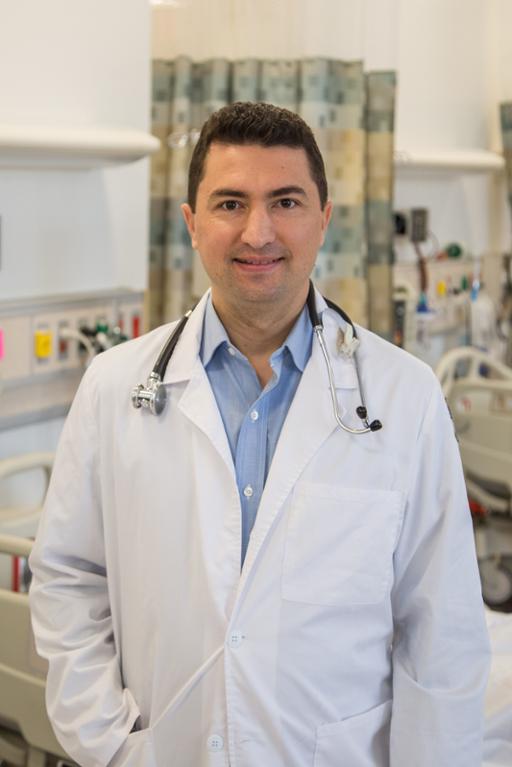 How far would you travel to change your future? For Petru Poenaru, the answer was halfway around the world.
Poenaru walked away from a banking career in Bucharest, the capital city and commercial center of Romania, to become a nursing student at Cuyahoga Community College (Tri-C®). In December, he will graduate from Tri-C with honors.
"I was moving up at the bank, but I never felt like it was the right fit," the 37-year-old said. "I felt that kind of job was one I was just doing for a paycheck. I didn't get the satisfaction I was hoping to get."
Poenaru considered a career in health care following high school before choosing "the safe route" and studying business in college. He earned a bachelor's degree in economics and landed a banking job.
A few uninspiring years quickly passed. "That's when I realized I made a mistake," he said.
He began searching for nursing programs and focused on Cleveland, given the city's international reputation as a medical hub. Friends who had immigrated to Northeast Ohio suggested Tri-C.
Poenaru crossed continents and enrolled at the College in 2015. He excelled academically, his grades opening the door for him to join Phi Theta Kappa Honor Society at Westshore Campus in Westlake.
This past spring, Poenaru claimed a spot on the All-Ohio Academic Team recognizing top students and leaders at the state's two-year schools. He has also received multiple academic scholarships.
His scholarships include an Alice Flaherty Excellence in Nursing Scholarship, a Sam J. Frankino Foundation Nursing Scholarship and a Gap Scholarship through the Cuyahoga Community College Foundation.
"I am so grateful for these scholarships and all the people who made it possible for me to focus on my studies," said Poenaru, who lives in Lakewood. "I can't say enough about the opportunities I have received."
Those opportunities included clinical rotations through the world-class medical centers that attracted Poenaru to Cleveland. He spent time at the Cleveland Clinic, MetroHealth System and University Hospitals.
Poenaru plans to transfer to the University of Akron after graduating from Tri-C with an Associate of Applied Science degree in nursing. He also earned an Associate of Science degree from the College in May.
His long-term goal is to launch a network of nursing homes to provide health care to the elderly in the United States and in his native country of Romania.
"I came to Tri-C to learn and practice so I can apply my knowledge to improve lives," Poenaru said. "I want to spend my time doing something helpful. I hope to make my college proud of me in the future."
Cuyahoga Community College will celebrate the academic achievements of nearly 2,000 graduates on Dec. 18 at Fall Commencement. Check our News and Events page in the days leading up to the ceremony as we highlight members of the Class of 2018.
December 11, 2018
John Horton, 216-987-4281 john.horton@tri-c.edu