A Life Rebuilt, From the Bottom Up
Though he was gifted, Kevin Jones struggled to find his way in life. But a serious car accident changed everything, ultimately leading him to Tri-C.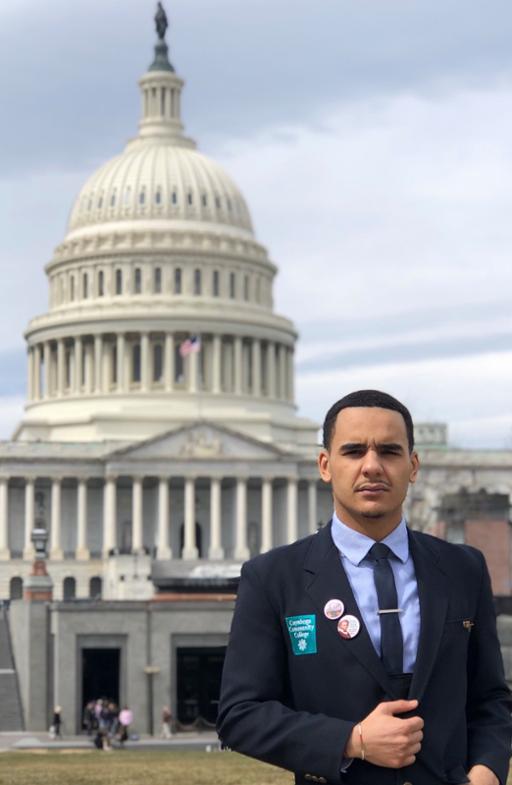 Kevin Jones will walk across the stage at Cuyahoga Community College (Tri-C®) commencement this month with an Associate of Arts degree and a certificate in Conflict Resolution and Peace Studies.
It's a far cry from the state of Jones' life seven years ago. He had bounced from high school to high school, been kicked off of two football teams and was struggling to find a direction in life.
Then came January 2013, on a stretch of state Route 43.
"I was a passenger in my friend's car," Jones said. "He was driving recklessly. He went into the left-hand, opposing lane to try and catch up to another friend who was driving in the right-hand lane. We never saw the oncoming car."
The impact broke both of Jones' hips, his pelvis and several vertebrae. He spent 18 days in the hospital and 16 more in a rehabilitation facility.
"At the time of the accident, I was just under 200 pounds. I lost 30 pounds just being bedridden for a month," he said.
Jones was at the bottom. The only direction he could go was up. A year later, he tried working as a roofer, but his body couldn't handle the wear and tear. That's when he decided to enroll at Tri-C.
Jones finally found a structure that enabled him to use his gifts. In the Jack, Joseph and Morton Mandel Humanities Center, he developed an appreciation for cultural diversity and a passion for community service. He received an introduction to economics, law and international studies.
Jones plans to double major in economics and history at Case Western Reserve University, minoring in artificial intelligence and public policy. After he graduates from Case, he wants to attend law school.
"My goal is to become an intellectual property attorney," he said. "It's one of the reasons I want to minor in artificial intelligence. I'd also like to someday run for public office."
Jones is grateful to the people at Tri-C for helping him fashion a new direction in life. When he was at the bottom, Tri-C helped him find a new purpose. This spring, he was named Eastern Campus Student of the Year and earned a spot on the All-Ohio Community College Academic Team.
"The Degree in Three program helped structure my classes so I could just focus on doing my work and getting my foot in the door at Case," he said. "The Black American Council helped me a lot from a mentoring aspect. The Mandel Center helped me find new interests.
"Tri-C helped set me on a path to success, right when I needed it the most."
Cuyahoga Community College will celebrate the academic achievements of thousands of students on May 16 at Spring Commencement. Check our News and Events page in the days leading up to the ceremony as we highlight members of the Class of 2019.
May 05, 2019
Erik Cassano, 216-987-3577 erik.cassano@tri-c.edu