A Life-Changing Suggestion
Sedi Rrustemaj earns two degrees after a co-worker's recommendation led her to Tri-C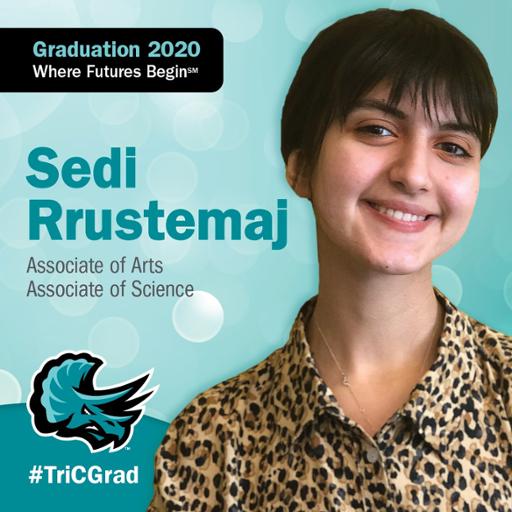 Doubt gripped Sedi Rrustemaj as she finished her senior year at Rocky River High School. Despite posting a 4.0 GPA after emigrating from Albania, she didn't feel ready to enroll at a four-year university.
"I didn't know a lot about how college works here," she said. "I wasn't sure what I wanted to study, either, or if I could afford it. So I thought I'd take a year off to figure things out."
That's when a co-worker suggested enrolling at Cuyahoga Community College (Tri-C®).
Less than two years later, Rrustemaj is set to graduate with honors from Tri-C. The 19-year-old packed enough courses into four semesters and one summer session to earn two degrees — an Associate of Arts and an Associate of Science.
She plans to transfer to a four-year university this fall to continue her education. Her goal is to become a doctor of osteopathic medicine.
"Every individual has something within them," Rrustemaj said. "You just need to find a way to spark it. That's what Tri-C did for me. It showed me what was possible. It helped me realize what I could do."
Rrustemaj immersed herself in Tri-C life. She won election as vice president of student government at Westshore Campus and vice president of leadership for the Phi Theta Kappa Honor Society chapter at Western Campus.
Her academic achievement led to an invitation to join the Jack, Joseph and Morton Mandel Scholars Academy at Eastern Campus, where she continued building leadership skills through guided coursework in the humanities.
She also took classes through the Cleveland Humanities Collaborative, a partnership between Tri-C and Case Western Reserve University.
"You find such a sense of belonging at Tri-C," Rrustemaj said. "It brings out your best."
Rrustemaj has balanced her studies and activities at multiple campuses with a part-time job at downtown Cleveland's Luca Italian Cuisine. That's where she worked when she received the life-altering recommendation to attend Tri-C.
The decision to enroll at the College came just days before the 2018 fall semester began. She remembers scrambling to get courses scheduled.
"I'm glad I went for it," Rrustemaj said. "That decision changed my life."
Cuyahoga Community College will celebrate the academic achievements of approximately 2,500 graduates on May 14 during a virtual ceremony. Check our News and Events page in the days leading up to the online event as we highlight members of the Class of 2020.
May 06, 2020
John Horton, 216-987-4281 john.horton@tri-c.edu