A Healthy Prize: Tri-C Culinary Student Awarded Scholarship
Gabrielle Shipta honored by Les Dames d'Escoffier Cleveland as she pursues nutrition-driven career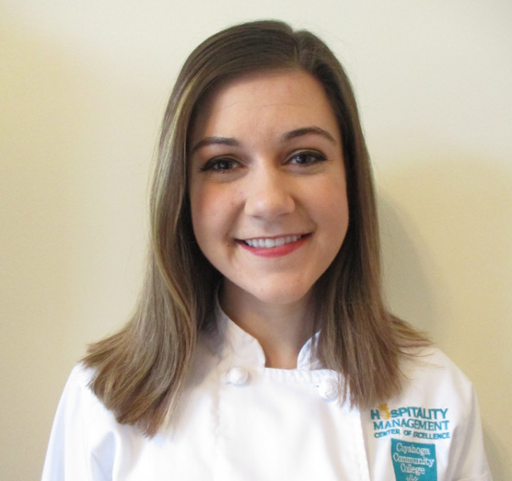 Cuyahoga Community College (Tri-C®) student Gabrielle Shipta recently received the 2020 Culinary Scholarship sponsored by the Cleveland chapter of Les Dames d'Escoffier International (LDEI).
The chef-to-be plans to put the $2,000 prize toward her Tri-C tuition as she pursues an Associate of Applied Business degree in hospitality management with a focus on culinary arts.
Shipta enrolled in Tri-C's culinary program to build on a bachelor's degree in applied nutrition earned at Ohio University in 2018. The 25-year-old from Seven Hills became interested in nutrition and cooking through a middle school home economics class.
"The passion derived from there in wanting to keep improving my own health and eating," Shipta told writer Paris Wolfe for a story on the scholarship award posted on the "Dames Dish!" blog by LDEI. (Click here for the full story.)
Shipta currently works as a part-time sous chef at the Center for Integrative and Lifestyle Medicine at the Cleveland Clinic. In the role, she helps patients learn to look at food as medicine.

The position reinforced her desire to build culinary skills and led to Tri-C. She hopes the culinary degree leads to full-time work at the Cleveland Clinic, either leading the culinary medicine program or as an executive chef.
"I want to make a difference in people's lives through food," Shipta told Wolfe.
The LDEI Cleveland $2,000 scholarship serves to assist and promote women in the professions of food, wine and hospitality.
"The award is based on academic accomplishments, career goals, culinary experience, professional and personal references, and financial need," said Carol Hacker, chair of LDEI Cleveland's scholarship committee. "Gabrielle is an ideal winner."
April 29, 2020
John Horton, 216-987-4281 john.horton@tri-c.edu