A Hands-On Approach
When Paul Fabek decided to change careers, he found a new path in Tri-C's Massage Therapy program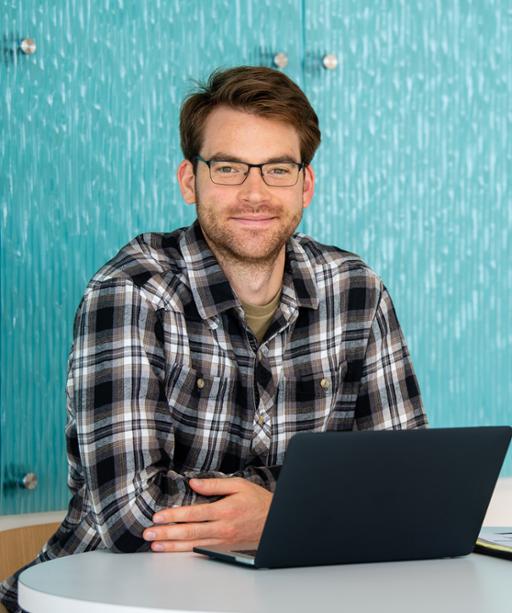 Paul Fabek always wanted a career in which he could help people. But it wasn't until he enrolled in Cuyahoga Community College's (Tri-C®) Massage Therapy program that he found a way to do it — one person at a time.
Fabek is set to earn an advanced massage therapy certificate from Tri-C this month as he continues a career transition that began less than two years ago.
The 30-year-old Gates Mills resident previously performed waste management and project management duties at various companies throughout Northeast Ohio. But although the work was meaningful, he discovered it just wasn't for him.
"It's a great career for a lot of people, but I didn't get the sense of accomplishment I was looking for personally," Fabek said.
Thinking a change of scenery might help, Fabek moved to Denver in 2015. But the strain of being 1,200 miles away from his family brought him back home two years later. That's when he found himself at a career crossroads.
"I was back in Cleveland looking for a new job, so it's basically, do I look for another environmental job, or do I do something else?" he said.
Fabek chose the latter. He'd always had an interest in massage therapy, so he decided to enroll at Tri-C. The College's post-degree certificate in massage therapy took him in a new direction from the bachelor's degree in sustainability he earned from Baldwin Wallace University in 2011.
"I like the immediacy of the impact," he said of massage therapy. "You can see the results right away, for each patient you work with."
The advanced certificate from Tri-C follows the post-degree certificate he received from the College in August. He's currently employed at a health and wellness center in Hudson and has been accepted into the Doctor of Physical Therapy program at Cleveland State University.
"The program at Tri-C has been amazing," Fabek said. "My instructors really opened my eyes to the possibilities and gave me the confidence to not just get into this career, but move up in it. When you come to Tri-C, you know your professors and the administrators are always there to help everyone succeed, whether it's in class or the clinic, or meeting one-on-one.
"I truly believe massage therapists who come out of Tri-C have an advantage, whether moving on in their education or entering the workplace."
Cuyahoga Community College will celebrate the academic achievements of nearly 1,800 graduates on Dec. 17 at Fall Commencement. Check our News and Events page in the days leading up to the ceremony as we highlight members of the Class of 2019.
December 12, 2019
Erik Cassano, 216-987-3577 erik.cassano@tri-c.edu