A Grandfather's Guidance Leads to Graduation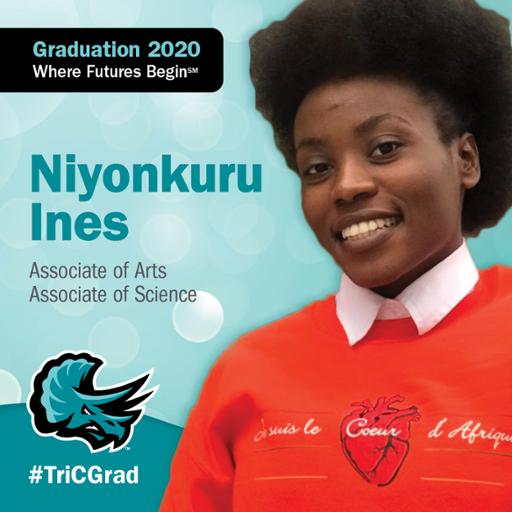 Niyonkuru Ines never considered herself college material while taking classes at St. Martin de Porres High School, located a short walk from her home on Cleveland's east side.
Her grandfather, however, looked at Ines and saw a young woman destined for bigger things. He insisted that she continue her education. Then he paid her tuition at Cuyahoga Community College (Tri-C®) to make it happen.
That investment in the future matures this month, as Ines is set to graduate from Tri-C with two degrees: an Associate of Arts and an Associate of Science. It's an outcome the 22-year-old never imagined.
Born in Tanzania, Ines immigrated to the United States with her family in 2007. They came in search of better education and opportunity. But the transition was not easy.
Ines remembers being bullied by her new classmates, who mocked her short haircut and told her that she smelled bad. She said she relied on faith and family to pull her through those difficult times.
Her grandfather gave her advice during that difficult time. He told her to make friends, but to focus on the few who would be true friends through life's ups and downs.
Ines carried that wisdom through the years. When she began her coursework at Tri-C, she made a point of recognizing professors and tutors as the kind of friends who would help her grow and succeed.
She said counselor Linda Lanier ― her First Year Experience Success Seminar instructor ­at Metropolitan Campus ― gave her needed encouragement.
Ines also credited Lanier with helping her deal with the death of grandfather in 2018.
"She kept pushing me and was there for me every step of the way," Ines said. "If it wasn't for her, I would be a dropout college student."
With Lanier's guidance, Ines quickly found her footing at the College. She became involved with the Black American Council and the Black Diamonds Initiative, experiences that boosted her confidence in and out of the classroom.
"Tri-C has made me a better student and a better person," she said. "The people ― especially the professors ― really care about students."
Ines said she expects to lean on her "true friends" at Tri-C even after she graduates and transfers to the University of Akron. She wants to study social work and build a career helping immigrants realize the American dream.
As she continues her education, Ines said she often thinks of her grandfather's early support.
"He would be proud of me," she said. "He would encourage me to continue working to get a bachelor's degree, master's degree and more. He understood the value of an education, and he wanted great things for his family."
Cuyahoga Community College will celebrate the academic achievements of approximately 2,500 graduates on May 14 during a virtual ceremony. Check our News and Events page in the days leading up to the online event as we highlight members of the Class of 2020.
May 05, 2020
Katie Utrata, 216-987-4582 katie.utrata@tri-c.edu