A Glamour Job
Diane Sears wants to use her Tri-C degree to pursue a career as a cosmetic chemical engineer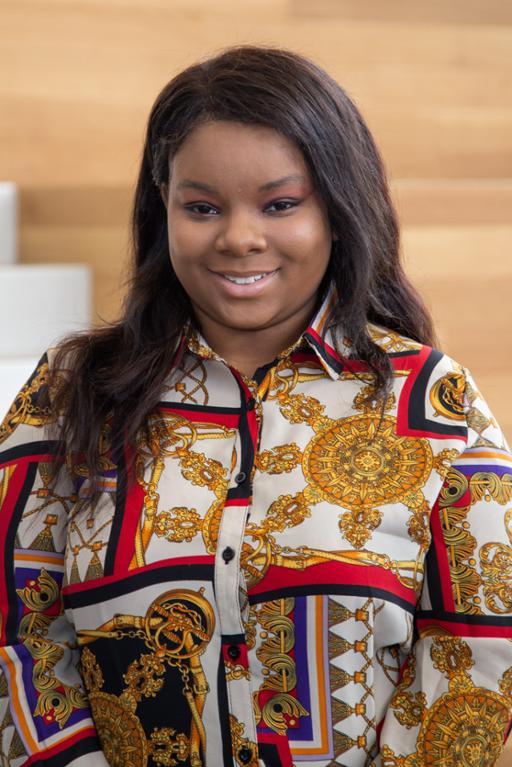 Diane Sears sees beauty in science.
The 20-year-old wants to blend her love of chemistry, engineering and math with a job in the cosmetics industry. She built a foundation for that career with her studies at Cuyahoga Community College (Tri-C®).
Later this month, she'll graduate from Tri-C with an Associate of Science degree.
Sears said her father, Donnell, inspired her to pursue a career in engineering given her talents in math and science. Initially, she objected. "To be honest," she said, "it sounded boring."
But then she stumbled upon a job — cosmetic chemical engineer — that put lipstick on the idea.
Chemical engineers in the cosmetics industry design the personal care items that fill bathroom cabinets and makeup bags. Much of their work focuses on ensuring the safety of products used by consumers.
"I had never looked at makeup and thought of all the science behind it," Sears said. "I want to be the one doing that."
To begin working toward that goal, she enrolled at Tri-C in 2017 after moving to Cleveland from Alabama. Sears took classes online her first year as she balanced classwork and working two jobs.
Her days often started at 3:30 a.m. as she caught buses to work to begin pouring coffee and serving breakfast. She spent her nights doing homework.
"It was rough," she said, "but I knew I had to keep going."
Sears started taking classes at Metropolitan Campus in 2018 and became more involved in student life. She currently works as a tutor at the downtown campus to help peers struggling with complex classwork.
In the fall, Sears plans to take more classes at Tri-C before transferring to a four-year school to begin work on a bachelor's degree.
Sears said she is happy she followed her father's advice — particularly when she looks around her classes and sees few women or African American classmates. Both are underrepresented groups within the engineering field.
She said that she wants to be an example for future girls.
"That is something that drives me," Sears said. "If I finish this, I can show other people what is possible. I want to be somebody's inspiration."
Cuyahoga Community College will celebrate the academic achievements of thousands of students on May 16 at Spring Commencement. Check our News and Events page in the days leading up to the ceremony as we highlight members of the Class of 2019.
May 08, 2019
John Horton, 216-987-4281 john.horton@tri-c.edu