A Family Affair
Wanda Williams and her granddaughters complete degrees at Tri-C, plan to walk together at graduation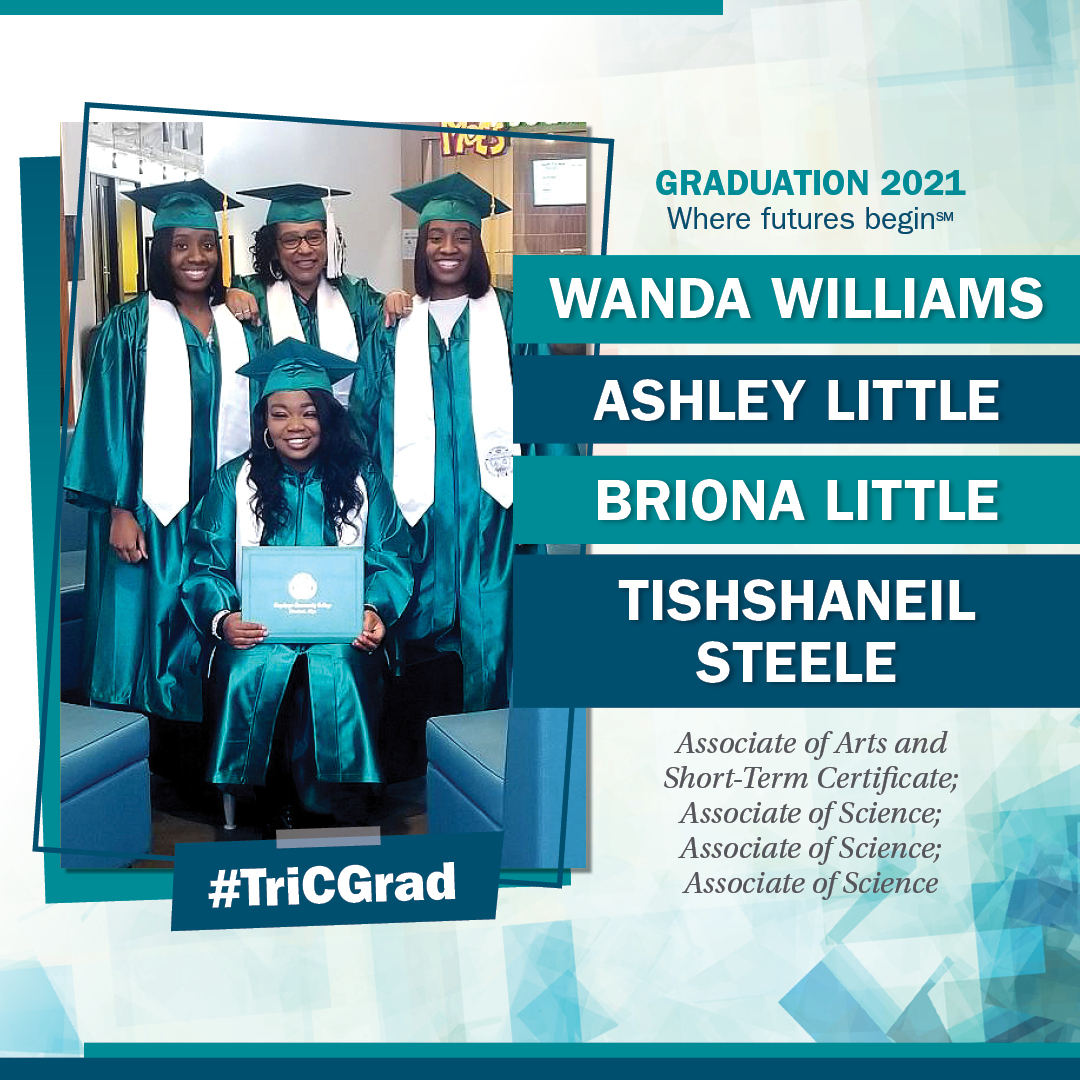 It's not every day you hear about a grandmother and her three granddaughters graduating college together— but that's exactly what Wanda Williams, Ashley Little, Briona Little and Tishshaneil "Tish" Steele will do this month. All four are graduating from Cuyahoga Community College (Tri-C®) with associate degrees.
"I feel like we're making history walking across the stage together," Tish said. "It feels amazing! I think it's pretty cool."
Tish, 22, moved to Cleveland from Jamaica in 2010 and graduated from Glenville High School in 2017. She attended Tri-C right after graduation and declared her major in pharmacy.
"I learned about Tri-C at Glenville," she said. "They talk about it every day. Plus, my mom and dad took classes there.'"
Tish is graduating with an Associate of Science degree. She credits her support system for helping her stay on track. Her twin cousins, Ashley and Briona, said the same.
"We kind of pushed each other to continue," Ashley said. "And now, we're all getting our degrees. It feels good to graduate with my family."
Ashley and Briona, 19, began their journey in 2018 as high school students attending Tri-C's High Tech Academy. The sisters graduated from Glenville in 2020 — Briona as valedictorian — and seamlessly continued on at Tri-C as part of the Say Yes program.
"The program really helped," Ashley said. "They offered a lot of tutoring and were always there when I needed them. I give them a lot of credit."
Both sisters will graduate with Associate of Science degrees. After graduation, they plan to remain at
Tri-C to study and play basketball — something they weren't able to do at the start of the COVID-19 pandemic.
"Another thing we didn't get was a real high school graduation," Briona said. "It's cool I get to share this experience with my sister, my cousin and my grandma. I plan to celebrate after this graduation!"
Wanda, 62, is also ready to celebrate. She has always wanted to get a degree, and now she can cross it off her bucket list.
"Tri-C is an excellent college for people who are beginning to follow their dreams," she said. "It's been an on-again, off-again journey for me, but I never stopped."
Wanda will graduate with an Associate of Arts degree and a short-term certificate in health information management. She's excited to reach this milestone alongside her granddaughters.
"It's a great feeling," she said. "I knew we were all going to Tri-C, but I didn't think we would all come together to graduate. We are blessed that we can walk across the stage as a family."
Cuyahoga Community College will celebrate the academic achievements of its newest graduates during commencement on Dec. 16 at the Wolstein Center in Cleveland. Check our News and Events page leading up to the event for more highlights of the Class of 2021.
December 14, 2021
By Madeline Shepherd, 216-987-4616 madeline.shepherd@tri-c.edu