A Dream Deferred
Tri-C helped Lisa Reszegi answer the question, 'What would happen if you had one do-over in life?'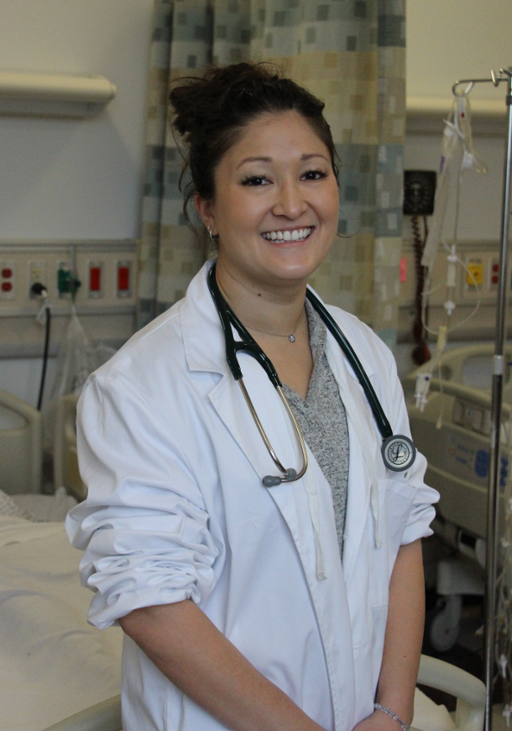 Lisa Reszegi was content in her career as a bartender. She'd been doing it for 10 years and was making decent money. There were times when she'd mull over her career choices, wondering if she wanted to spend the rest of her life working in restaurants, but she never seriously considered a change.
One day, her husband asked her a life-changing question: "If you could do one thing over again, what would it be?"
Three years later, Reszegi is graduating with an Associate of Applied Science degree in nursing from Cuyahoga Community College.
"I previously earned a bachelor's degree in psychology," she said. "I always liked the idea of a career where I could really make a difference in people's lives. So at 27, I decided to get into nursing."
Reszegi initially entered the State Tested Nursing Assistant (STNA) program at Tri-C as a way to explore the profession.
"I discovered all the career options you have as a nurse," she said. "You can work in a hospital, an outpatient facility, family practice, dialysis center and tons of other paths. It made me realize this was the right choice."
While in the STNA program, Reszegi was hired by University Hospitals. The hospital systempaid for her schooling during her subsequent two years in Tri-C's associate degree nursing program.
After graduating later this month, the 30-year-old from North Olmsted will work in the cardiothoracic intensive care unit at UH while pursuing an online Bachelor of Science in nursing through Ohio University.
Reszegi credits her Tri-C professors with giving her the knowledge — as well as the confidence — to succeed in a demanding profession.
"I hope to stay in touch with some of them for the rest of my life," Reszegi said. "They spend so much time tutoring you and just encouraging you. It's a tough program academically, but they are your motivators throughout all of it."
And, she said, never give up on your dreams.
"Sometimes, the timing just has to be right," she said. "If I was 18 again, I doubt I would have chosen nursing as a career because I just wasn't ready. And at Tri-C, you see that so many people come here through different paths and at different points in their lives.
"At Tri-C, it's perfectly acceptable to explore your career options, no matter what age you are."
Cuyahoga Community College will celebrate the academic achievements of nearly 1,800 graduates on Dec. 17 at Fall Commencement. Check our News and Events page in the days leading up to the ceremony as we highlight members of the Class of 2019.
December 10, 2019
Erik Cassano, 216-987-3577 erik.cassano@tri-c.edu