A Degree Built on Resiliency
With the help of a mentor, Janelle Cavin earned the title of 'Tri-C graduate'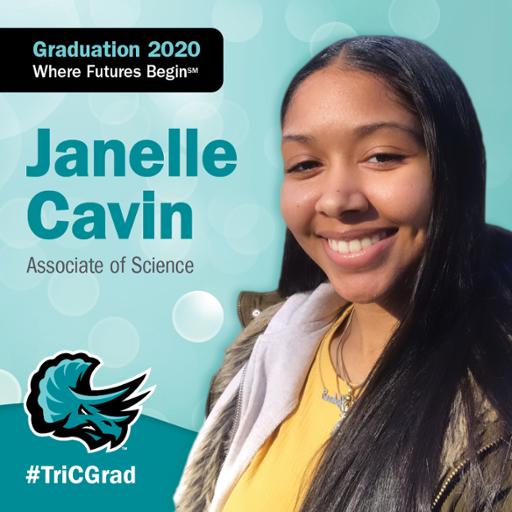 Doubts crept into Janelle Cavin's mind during her two years at Cuyahoga Community College (Tri-C®). She logged long hours studying and working with tutors, but her grades sometimes didn't match the effort.
Cavin never gave up, though. Her mentor at the College — Angela Roberson, director of the Eastern Campus enrollment center — refused to let her.
"Whenever I had a problem or needed advice, she was there," Cavin said. "She saw something in me that I didn't know I had. She helped me find my determination. That's why I was able to finish."
Cavin's name will be among those announced during the College's Fall 2020 Commencement ceremony. The 20-year-old from Maple Heights is set to graduate from Tri-C with an Associate of Science degree.
Roberson will be among those cheering: "I saw the struggles Janelle went through," Roberson said. "She was knocked down, but she always got up. That's what makes her special. You won't find someone more resilient."
The two met during Cavin's first semester at Eastern Campus. Roberson was the instructor for Cavin's First Year Success Seminar, a course that connects students to College resources and positions them for success.
Roberson said that Cavin's drive made her stand out in the class. She watched as the freshman acted on every tip and piece of advice.
The two remained in regular contact after that semester. When Cavin joined Tri-C's Black American Council and signed up for the organization's mentoring program, she was paired with Roberson.
Cavin continued working hard in the classroom, and positive results followed. She began seeing A's and B's for grades and earned a scholarship through the College's Frances M. Franklin Scholarship Fund.
The confidence built at Tri-C will carry Cavin into the next step in her academic journey. She plans to transfer to Cleveland State University in the spring to continue her studies. She hopes to become a dietician.
"I love learning and the feeling of accomplishment that it brings," Cavin said. "I know what I'm capable of doing, too, and I'm not going to stop until I meet my goals."
Cuyahoga Community College will celebrate the academic achievements of its newest graduates during a Dec. 17 virtual commencement ceremony. Check our News and Events page leading up to the online event as we highlight members of the Class of 2020.
December 01, 2020
John Horton, 216-987-4281 john.horton@tri-c.edu