A College Degree Before a High School Diploma
College Credit Plus allows 41 teens to graduate from Tri-C before finishing high school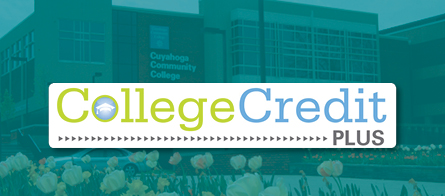 Spring commencement at Cuyahoga Community College (Tri-C®) will serve as a cap-and-gown dress rehearsal for 41 teens earning a college degree or certificate before graduating from high school.
The students attended Tri-C through Ohio's College Credit Plus program. The dual enrollment system allows students to earn college credits while meeting high school graduation requirements.
The following College Credit Plus students, listed by hometown, earned degrees or certificates at Tri-C this spring. Students in bold earned both an Associate of Arts degree and an Associate of Science degree.
Bedford: Tyzha Gunn, Avandre Sayles and Deandra Washington
Bedford Heights: Alexis McKeller
Brooklyn: Micayla Reyes
Brunswick: Tyler-Lynne Gittinger
Cleveland: Ashanti Black, Nathan Cabot, Kevin Daniel, Shakora Davis, Angelica Hairston, DonayJa Harris, Abigail Hausman, Erin Hayward, Josue Mondragon, Marco Orozco, Ibrahim Othman, Madison Patterson and Jasline Rosario
Cleveland Heights: Kyra Sears
Columbia Station: Kirby Copper
Euclid: David Jackson
Independence: Holly Stralka
Maple Heights: Taviana Carr and Diamond Williams
Medina: Michael Clark, Julianne Finley and Nicholas Moore
North Olmsted: Kara Mincik
North Royalton: Anton Krieger
Parma: Deanna Haas, Evan Lang and Christopher Rush
Parma Heights: David Kropinak Jr. and Pavlo Paramashchuk
Seven Hills: Caitlin Lee
Shaker Heights: Jasmine Pipkins
Strongsville: Giovanni Dushaw, Salina Mikityuk, Vivian Sanek and Jordyn Wolfe
Ohio debuted College Credit Plus in 2015 to improve educational attainment and career readiness for young residents while strengthening the bridge between high school and higher education.
The goal is to reduce the time and expense of earning a college degree. State education dollars pay for the program, meaning there is little or no cost for participating students and their families.
College Credit Plus students at Tri-C studied their way to nearly 36,000 college credits during the 2016-2017 academic year — tops in Ohio, according to the most recent state report on the program. Those credits carried a tuition value of more than $3.7 million.
The program is open to teens in grades seven through 12 who are academically ready for more rigorous coursework. 
Tri-C's Spring Commencement will begin at 6 p.m. Thursday, May 17, at Cleveland State University's Wolstein Center, located at 2000 Prospect Ave. in Cleveland. The Class of 2018 is one of the largest in the College's history.
May 15, 2018
John Horton, 216-987-4281 john.horton@tri-c.edu