A Burning Desire to Learn
News-Herald story highlights benefits of live fire training sessions held at Tri-C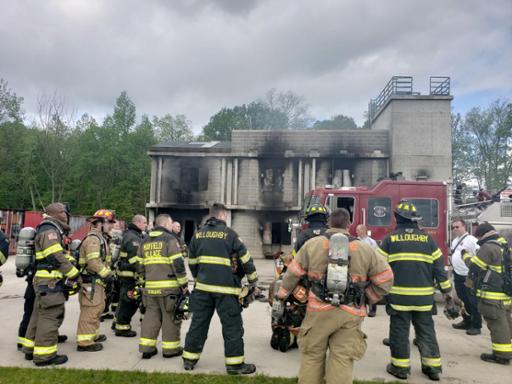 Emergency situations continually popped up this week at the Western Campus of Cuyahoga Community College (Tri-C®).
In other words, everything went according to plan.
Firefighters from seven Northeast Ohio departments spent two days at Tri-C's KeyBank Public Safety Training Center conducting live fire training drills. More than 80 first responders took part in the drills in the burn building.
The News-Herald featured the training in a front-page story May 22. The article can also be found online.
The training sessions focused on second-floor fires and rescues. Firefighters from different departments teamed to extinguish the flames and conduct searches for potential victims within the smoke-filled rooms.
Willoughby Fire Chief Todd Unger emphasized how Tri-C serves as a critical training resource for regional departments.
"There is a huge benefit to all of us to be around these (Tri-C fire instructors)," Unger told News-Herald reporter Kristi Garabrandt. "I've been teaching for 20 years, and I still learn something new every time I'm around them."
May 23, 2019
John Horton, 216-987-4281 john.horton@tri-c.edu