A Brighter Future
Robert Brunello earns welding credentials after taking a chance on a different career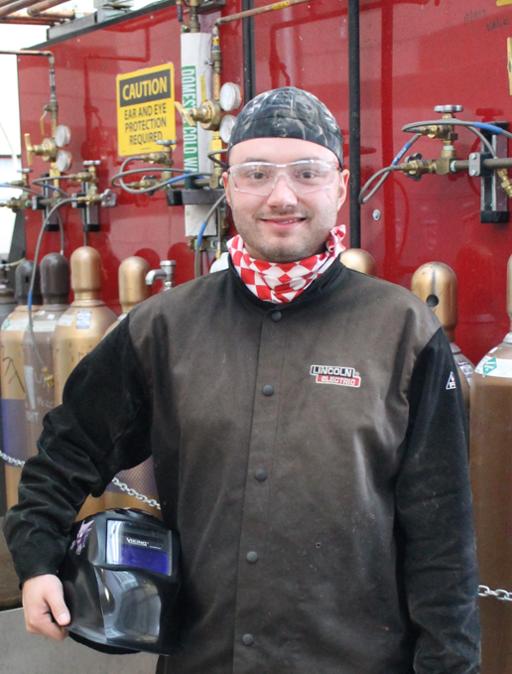 Robert Brunello discovered a career path at Cuyahoga Community College (Tri-C®). It just wasn't the one he expected.
The 28-year-old graduates from Tri-C this month with a short-term certificate in welding. Prior to enrolling in the workforce training program four months ago, though, Brunello had no experience in the trade.
"To be honest," he said, "I didn't really know much about welding before starting the program. It's not what I ever thought I'd be doing."
After graduating from Mayfield High School, the self-proclaimed techie envisioned himself working with computers. He enrolled at Tri-C and earned an Associate of Applied Business degree in 2015.
That led to a job in tech support and a revelation: "I didn't feel like it was my kind of work," Brunello said.
A career assessment test taken through Opportunities for Ohioans with Disabilities pointed Brunello toward welding. Brunello connected with the organization because he has autism spectrum disorder.
The welding suggestion intrigued Brunello, so he entered Tri-C's welding program in August. Classes took place at the Advanced Technology Training Center (ATTC) at Metropolitan Campus in Cleveland.
Brunello said he caught on quickly while working in the ATTC's welding lab, which features high-tech training equipment from Lincoln Electric.
"The more I did it, the more it felt right," the Mayfield Heights man said.
He leaves the class with his workforce certificate from the College plus professional credentials in gas metal arc welding (MIG), gas tungsten arc welding (TIG) and shielded metal arc (stick) welding.
A few potential job opportunities already await.
"There's a real demand for welders," Brunello said. "I see a lot of opportunity and — best of all — I'm excited about starting this as a career. It was a tough decision to change directions, but I know I made the right choice."
Cuyahoga Community College will celebrate the academic achievements of nearly 1,800 graduates on Dec. 17 at Fall Commencement. Check our News and Events page in the days leading up to the ceremony as we highlight members of the Class of 2019.
December 16, 2019
John Horton, 216-987-4281 john.horton@tri-c.edu