450 Miles Closer to Ending Homelessness
Tri-C graduate Derek Pratt walks from Cleveland to Washington, D.C., to raise awareness about the plight of America's homeless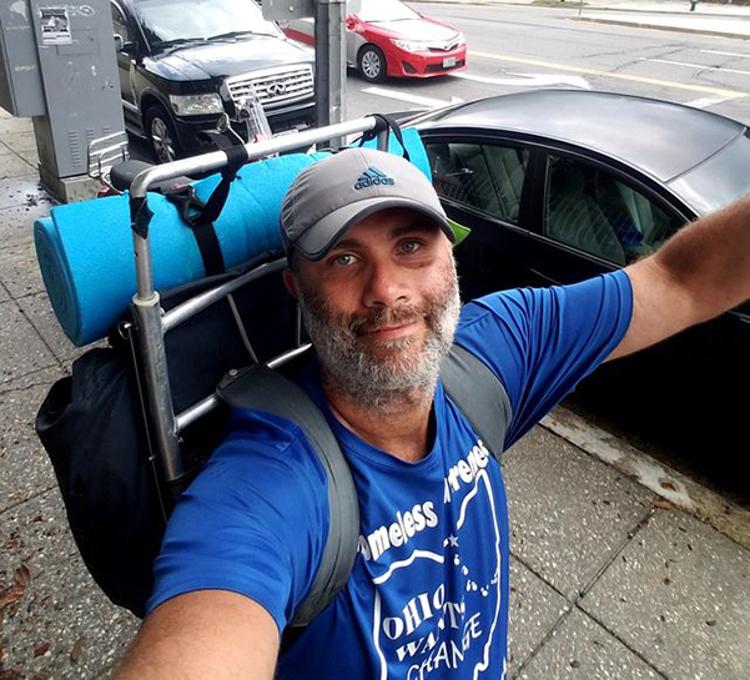 This summer, Derek Pratt spent an entire month fighting homelessness with his feet.

Step after step after step. Uphill and downhill; across a mountain range; through heat, humidity and storms. For 27 days and nearly 450 miles, from Cleveland to Washington, D.C.

The 2004 graduate of Cuyahoga Community College carried a 40-pound pack on his back, enduring blisters and muscle cramps, for one reason: he had once been homeless himself.

"I grew up in the Elyria area until my early teens," Pratt said. "We went through some rough times. I spent time moving around between family members and homeless shelters. I know the hardships faced when you don't have a home to call your own, and I know we have the resources as a nation to end homelessness. That was the inspiration behind this walk."

Pratt, 43, of Brunswick, dropped out of high school and has lived on his own since the age of 16. But he turned his life around. He received his GED at 19, enrolled at Tri-C in his mid-20s and earned an associate degree in IT. He later earned a bachelor's degree in IT from David N. Myers University and a master's degree from Strayer University.

"I have great memories of my time at Tri-C," Pratt said. "My professors gave me not only an education, but the confidence I needed to earn my associate degree and to keep achieving after I left the College. Tri-C is a big reason why I was able to pull myself up, and now have the opportunity to devote my career to ending homelessness."

After 12 years in IT and human resources, Pratt decided to pursue the battle against homelessness full time. He left his job and began working as an advocate for people living in apartment communities — mainly subsidized housing — and as a mediator focused on landlord-tenant issues. In January, he launched 4Ward With Purpose Inc., an organization that provides services that help overcome barriers to housing stability.

"One of our main areas of focus is building partnerships within communities to help provide housing stability and homeless prevention services," Pratt said.


The Walk
Why walk almost 450 miles? Simply put, it's more effective than handing out flyers.

"I was given an opportunity to attend the National Alliance to End Homelessness Conference in Washington, and I felt it would be a great chance to raise more awareness," Pratt said. "I could have done something more traditional, but I decided the walk could provide more awareness."

By the time Pratt decided to walk through four states to the conference, it was already June. He only had a few weeks to prepare. With the help of family and volunteers, he began raising funds, built the website walk4change.life, planned a route and began finding places to sleep each night.

Starting on June 26 from Scranton Flats, on Cleveland's near west side, Pratt took the Ohio and Erie Canal Towpath Trail south through Peninsula and Akron. He walked into southeastern Ohio before turning east into Pennsylvania. He walked through Pittsburgh, then began heading southeast on the Great Allegheny Passage into Maryland, briefly crossing into West Virginia as he traversed the Appalachians.

Each night, Pratt's mother arranged for him to sleep at a church or homeless shelter. Pratt stayed at campgrounds along the trails when a shelter or church was not available.

"She always called ahead to make sure I had a place to stay," he said. "A part of what I raise will go to the shelters I stayed at along the way."

It's about 400 miles via the most direct route from Cleveland to Washington. Pratt's route tacked on an extra 50 miles as he opted for trails and back roads — both to stay away from heavy traffic and to meet new people, sharing his story and raising awareness about his walk.

"I visited so many towns and met so many wonderful, giving people along the way," he said. "A volunteer fire department in Pennsylvania heard about my walk and took me in for a night. People gave me cold water and ice cream as I was passing through their towns."

Pratt also accepted small donations along the way. One donation story in particular stuck with him.

"I was passing a house in Bloomingdale, Ohio, when a man saw me from his garage," Pratt said. "We talked for a few minutes, and he told me he'd been seeing a lot of things on TV about homelessness recently, so he felt like meeting me was something that was meant to be."

The man gave Pratt $20, but he was moved even more by the gesture of the man's young daughter.

"She got her little coin purse from the house and offered me two quarters," Pratt said. "She saw her father's act of selflessness and wanted to replicate it. That was very powerful to me, because we teach our young people through our actions."


The work ahead
After arriving in Washington on July 22, Pratt's work was far from done. While attending the conference, Pratt and other advocates for ending homelessness held a discussion with the staff of Rep. Tim Ryan of Ohio, a meeting that Pratt called "a success."

But homelessness in America won't be solved just in offices and conference rooms. It will take the work of entire communities to address a complicated problem with many causes.

"It's going to take many of us working together," Pratt said. "It's going to take communities, companies and nonprofits, all finding creative ways to work alongside one another. The homelessness crisis we're having in this country is something that needs to be addressed by everyone."
August 08, 2018
Erik Cassano, 216-987-3577 or erik.cassano@tri-c.edu