3,000+ Success Stories: Tri-C Honoring Graduates at Spring Commencement
Class of 2018 is one of largest in the history of the College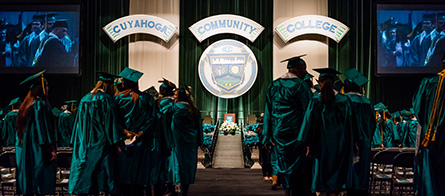 Cuyahoga Community College (Tri-C®) will celebrate the academic achievements of thousands of petitioning graduates during its Spring Commencement on Thursday, May 17.
The College has been asked to confer 3,024 associate degrees and certificates of completion at the graduation ceremony, making it one of the largest classes in Tri-C history. The total reflects the College's commitment to student success and adding to the vitality of Northeast Ohio.
"Our community grows stronger with each degree and certificate earned at Tri-C," said Alex Johnson, president of the College. "These graduates built the skills to take on meaningful careers in our region, where they will serve as a strong foundation for a better tomorrow."
The College will also award Honorary Doctor of Humane Letters degrees to Carole F. Hoover and Albert B. Ratner during the ceremony to recognize their commitment to the community.
Hoover has been a major contributor to social change and economic development in Northeast Ohio. She serves as president and CEO of Hoover Milstein, a commercial real estate and financial services firm that nurtures businesses.
Ratner has been involved in the commercial and residential real estate industry with Forest City Realty Trust since 1951. Over the decades, he established himself as a booster for Cleveland and a leader in Northeast Ohio's Jewish community.
The student speaker at commencement will be Alice Legg of Fairview Park, a onetime college dropout who never lost her dream of wearing a cap and gown. She will graduate from Tri-C with an Associate of Arts degree.
Legg intends to transfer to Cleveland State University, where she has been accepted into the Mandel Honors Program. She plans to earn a bachelor's degree in urban studies before attending CSU's Cleveland-Marshall College of Law.
Classmates selected the 41-year-old single mother of three to serve as student speaker at the ceremony and share her never-give-up story. To read other graduate success stories from the Class of 2018, visit the College's online commencement page.
Tri-C's Spring Commencement will begin at 6 p.m. Thursday at Cleveland State University's Wolstein Center, located at 2000 Prospect Ave. in Cleveland.
May 14, 2018
John Horton, 216-987-4281 john.horton@tri-c.edu