2021 State of the College: Determined to Make a Difference
The past year tested the resolve of the College and community. We begin 2021 ready to build on the strengths we developed.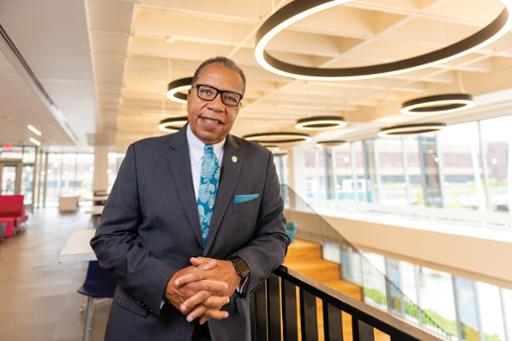 The following "State of the College" essay by Tri-C President Alex Johnson served as the cover story for the fall 2020 edition of Tri-C Times magazine. 
Challenges defined the past year. Uncertainties gripped the calendar seemingly from the first days of 2020 until we turned the page into December. 
A global pandemic left its deadly mark while shattering the norms of daily life. Unemployment numbers surged to record levels in a lurching economy. An awakening to the ongoing threat of systemic racism fueled social unrest and launched a much-needed national conversation. 
It was, in the simplest of descriptions, a difficult year. 
Yet difficulties create opportunities, and the work done at the College and in the community to overcome obstacles has made us stronger. We end 2020 more determined than ever in our work to build toward a better future. 
At Tri-C, our mission is to provide access to education and a better way of life. We know that Northeast Ohio needs the College to be at its best right now and take the lead on addressing the issues of our time.  
That is a responsibility we gladly accept. Here is how we're working toward success. 
As the 2019-2020 academic year ended, Tri-C reported a three-year graduation rate that set a new benchmark for the institution. The College's rate climbed to a record 23.6% while continuing a positive trend that has stretched for nearly a decade. 
Improving this federally tracked measure has been a point of focus at Tri-C. The reason is simple: The success of our students in attaining associate degrees reflects the success of the institution in meeting its mission. 
Today, students enrolling at the College are more than five times more likely to earn a degree within three years than a student who registered for classes in 2010. 
It's now routine at Tri-C for more than 4,000 students a year to earn the title of "college graduate." A decade ago, the count of students enjoying cap-and-gown moments sat in the 2000s. 
Building on this positive trend during the COVID-19 outbreak reveals the drive and determination of our students, as well as the faculty and staff who are committed to supporting their journey. Academic success and excellence stand as an unwavering goal. 
As the coronavirus crisis forced a shift to remote instruction in the spring and summer of 2020, the College established processes and programs to serve students in different ways as they continued working toward degrees and certificates. 
Examples include:
An unprecedented expansion of virtual learning that moved nearly 2,500 Tri-C courses to an online format in a two-week span. This quick response allowed learning to continue without interruption.
The distribution of more than a thousand computers to students who needed the technology to transition to online learning. These free devices bridged the digital divide to keep students moving ahead in their studies.
Faculty and staff making tens of thousands of phone calls to personally connect with students as they worked away from campus. 
Each of these actions and countless more played a critical role in students staying on course as COVID-19 upended daily life. As a College community, we persevered in the face of adversity. 
This continued during fall semester as students returned to campus on a limited basis. By following safety protocols, such as wearing masks and maintaining social distancing, we collectively worked to keep the virus from spreading while reopening classroom and labs. 
Tri-C also brought free COVID-19 testing onto its campuses, partnering with Care Alliance Health Center on the project. Testing rotated between the College's four campuses every Thursday from late August through mid-November. 
Hundreds of people took advantage of the testing program, which was available to Tri-C students, faculty and staff in addition to community members. 
Did any of this feel normal? Of course not. But it was necessary to achieve this result: A year-end virtual commencement ceremony celebrating thousands of students who earned the right to be called Tri-C graduates. 
These degrees ultimately bolster lives and families, paying off in better jobs and higher wages that stabilize households. On average, college graduates with associate degrees earn an additional $5,000 per year compared to someone who stopped their education after high school. 
Tri-C graduates also add to the collective strength of Northeast Ohio's workforce, which has trailed much of the nation in degree attainment. Every commencement improves our regional resume, adding to the pool of skilled workers businesses need to thrive in an evolving economy. 
Despite the gains, though, work remains to be done. A skills gap still exists in Greater Cleveland, particularly with in-demand jobs in large fields such as health care, information technology and advanced manufacturing. 
Tri-C has taken a lead role in building regional employment pipelines through the Workforce Connect Healthcare Sector Partnership. A primary goal of the project is to create opportunities for local residents to pursue careers with family-sustaining wages. 
Steps toward a solution often come down to one word: access.
Tri-C's tuition rate remained the lowest in Ohio last year, a designation that helps put higher education within financial reach for many students. Cost should not be an obstacle for those committed to building a better life through knowledge. 
For those who still needed assistance, the Cuyahoga Community College Foundation provided more help than ever before. The Foundation awarded a record amount of scholarships over the past year to high-achieving students. 
Connecting residents to the life-changing opportunities available at the College stands as a priority. To that end, Tri-C Access Centers continued to expand their reach into core communities where poverty's grip squeezes tightly. 
Tri-C Access Centers bring education and job training programs into Cleveland neighborhoods through collaborations with community partners. Three centers currently welcome those looking for a better future. A fourth is in the works. 
And even as COVID-19 prevented in-person programming at the Access Centers, the College pivoted to offer an online workforce success course to maintain momentum for the program. 
Look for more steps forward in the coming year as the Access Centers operate as one of three interrelated programs under the College's new Institute for Community Engagement and Development. 
The Institute formed to provide pathways out of poverty for underserved populations by connecting them to education, training and jobs through community and business partnerships. By design, it will reduce barriers by bringing College resources into the community. 
In addition to the Access Centers, the Institute will oversee:
Community Partners — Alliances that bring educational and workforce programming into community-based settings
Community Training and Jobs — Partnerships with local businesses to train the current workforce and connect community members to jobs in their neighborhoods 
Plans call for the Institute's first job hub to be with the Greater Cleveland Regional Transit Authority. The College will help the agency recruit new employees, upskill current workers and enhance leadership teams. 
The intent is to connect more individuals to the academic and career resources they need to achieve prosperity for themselves and their families. 
Basically, the Institute embodies Tri-C's role as "the community's college." 
So does another effort that launched in 2020. 
Troubling events over the past year awakened many to the concept of systemic racism and bias. A movement began, fueled by the senseless deaths of George Floyd, Breonna Taylor and others. 
Peaceful protesters took to the streets of Cleveland and other cities across the nation to express outrage and draw attention to the issue. At times, emotions flared. Violence and destruction sometimes followed. 
It's clear that difficult conversations need to take place to mend our nation and community. These discussions need to take place within a framework of civility for the healing to begin. As an institution, we want to lead this effort and serve as agents of change.
Tri-C's Stand for Racial Justice alliance seeks to advance racial equity and healing at the College and across Northeast Ohio through education, dialogue and action. We stand committed to reconciling the facts of race in America in a spirit of inquiry rather than indoctrination. 
More than 600 community members took part in the first Stand for Racial Justice program in September. The virtual event featured Tim Wise, one of America's leading writers and educators on race and racism, and a panel of local business leaders. The 90-minute presentation remains available for viewing at livestream.com/tri-c/wise916 (inactive link). 
As we enter 2021, Tri-C will work to find meaningful ways to engage the community and bring people together on this issue. We need solutions. Together, we will find them. 
Some of that work is also taking place at Tri-C's Public Safety Center of Excellence. 
The College is partnering with Cuyahoga County to provide countywide police officer training with an emphasis on de-escalation techniques, understanding law enforcement's role in mass gatherings and protests, mitigating bias in police work, and building trust within the community. 
The county committed funding for Tri-C to provide training sessions for 2,500 sworn police officers within Cuyahoga County. The program represents the county's response to protests following the death of George Floyd. 
The goal of the training is simple: Take policing to a higher level and help officers serve the community in the best way possible. 
In the end, that objective — serving the community in the best way possible — guides everything we do at the College. It is the idea that powers our days and fills our minds with limitless possibilities. 
The upcoming year will no doubt test us all as we continue to emerge from the tumult of 2020. Tri-C stands ready to take action and lead conversations that will result in meaningful and lasting change for the better. 
We cannot rest until we meet these challenges. That is a promise that this College and its faculty and staff make to the community. It is what drives us in our mission to serve Northeast Ohio. 
That's why, when looking ahead to 2021, reasons for optimism abound. 
As president of Cuyahoga Community College, I know the dedication, talent and tireless work ethic of each and every person at this institution. They bring a passion to their jobs. Higher education is their calling. As a group, they cannot be deterred. 
Likewise, I know the resolve of the people who call this region home. This is a community that prides itself on overcoming whatever obstacles appear on the path ahead. 
Confidence shines in the eyes of our students and graduates. They come to Tri-C looking for a better future, and they leave our campuses with the knowledge and skills to find success and meet their long-term goals. 
More than 85% of our graduates live and work in Northeast Ohio. They serve as a foundation for progress, adding strength and stability to the better tomorrow that we are building day by day. 
That is the story of the College. At Tri-C, we are determined to work with our community to make a difference … and we will.
December 18, 2020
John Horton, 216-987-4281 john.horton@tri-c.edu