10KSB Helps Beachwood Business Owner Gain New Perspective
Ideas gleaned from fellow entrepreneurs helped Seku Shabazz overcome pandemic-related hurdles and grow his business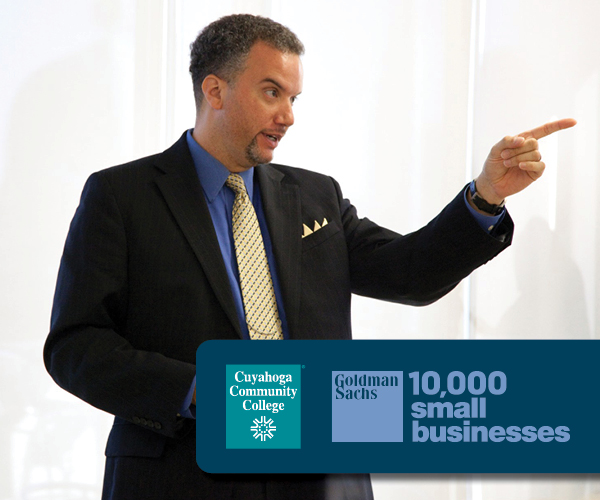 In 2018, Seku Shabazz fulfilled his childhood dream by starting a mortgage banking business. Less than two years later, forced to dramatically downsize his staff due to the COVID-19 pandemic, he felt like he'd been punched in the face.
He never threw in the towel, though. Instead, Shabazz — a graduate of the Goldman Sachs 10,000 Small Businesses (10KSB) program at Cuyahoga Community College (Tri-C®) — retooled and grew his business, Great Lakes Financing, to record revenue.
Through the program, which helps entrepreneurs create jobs and economic opportunity by providing them with greater access to education, financial capital and business support services, Shabazz learned how to critically observe and analyze different aspects of his business from an outside perspective.
In March 2020, Great Lakes Financing lost 84% of top-line revenue for 17 consecutive days. Things didn't improve in the months after. 
"I was so unbelievably angry because I hadn't done anything wrong," Shabazz said. "My lowest point came in May when I had to lay off every single person in the same day. It was absolutely horrendous. I remember crying in front of all my employees." 
Shabazz and his business partner reorganized the company and narrowed its offerings to one product: 30-year fixed mortgages. They invested in software to increase their efficiency and accuracy, rehired their staff in July, and grew their revenue. 
Those changes were in full swing when Shabazz was nominated for 10KSB. Feeling exhausted and unsure how he would juggle the program, his business and a global pandemic, he tried to quit after the first day of class. Moments after sending the email, his business advisor called him.
"He asked me to give it one week of honest effort, and if I still found the program to be too overwhelming, he promised he wouldn't stand in my way the next time I tried to quit." 
Shabazz found that interacting with other business owners — many of whom faced the same challenges — was valuable. In one discussion about operations and processes, a colleague in the printing industry spoke about removing the tops of his printers to gain a new perspective on what could make them more efficient.
"Watching him look at his processes from a mechanical standpoint challenged me to look at my processes in a new way," Shabazz said. "Though we work in completely different industries, the lesson struck home. I took the figurative 'top' off my business to look for inefficiencies."
Those subtle changes paid immediate dividends, increasing the company's revenue by more than 22% within weeks. Shabazz has hired seven employees since completing 10KSB, and company revenue is projected to increase by 300% within the next year.
Learn more about the program at tri-c.edu/10KSB. 
August 09, 2022
By Anthony Moujaes, 216-987-3068 or anthony.moujaes@tri-c.edu